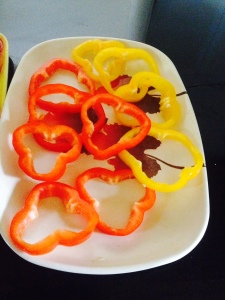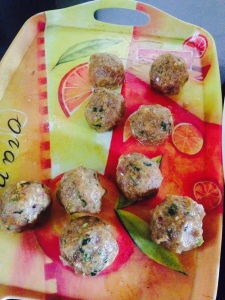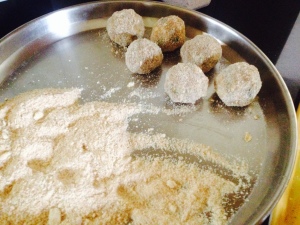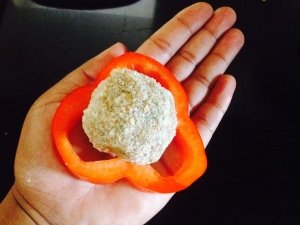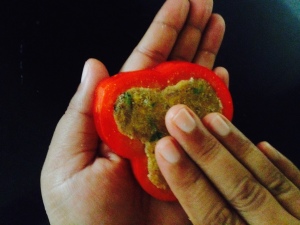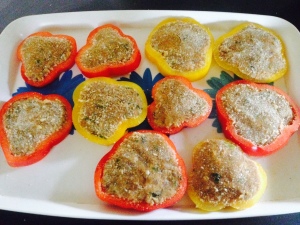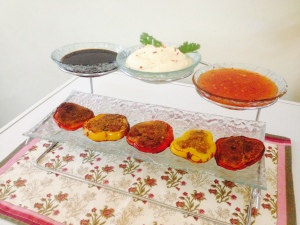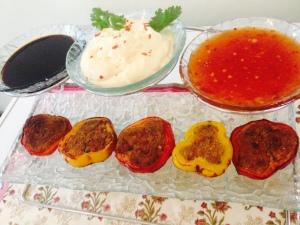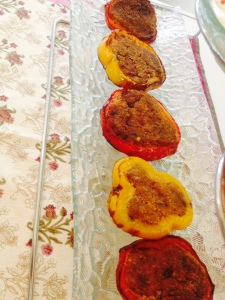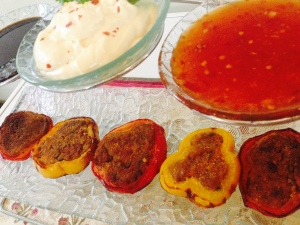 Preparation Time : 30 -40 minutes
Cooking Time : 35 minutes
Serving : 7-8 members
Description
Cooking good food is nothing less than an art and when you have to do this repeatedly nearly every single day , it is a bit of a challenge . The pain in watching kids pull a long face at the sight of the regular at the table is heart breaking . Hubby dear is no different , though he doesn't say it . I know he secretly looks forward to the sneak outings with his friends to feast his heart out on mouth watering local fare . To them ( actually include me as well ) , a dish is worth digging in to only if it tantalises the taste buds . Knowing all this , cooking tasty food with innovative recipes is a must always . I try my best to spring in a surprise on my family daily at the table at least for one meal . Like wise this was one such recipe that I tried giving a twist to the regular cutlets that I make at home always . The idea was borrowed from one of the master chef India seasons , not sure which season . Having it in mind for a long time . Every time I see fresh , vibrant coloured peppers I buy them having this dish in mind but end up using them for various other dishes . This time made it but again going out of stock of the green one which I thought I had but had already used for some thing else . Not again, this is not going to stop me from making this dish . Served it and the beaming smiles on the faces of my family said it all . In fact they couldn't believe it was home cooked food . perfect your next party with this show stopper that sure will lead you to high praise . My favourite was the red pepper ones as the caramelised red peppers added a sweet element to the cutlets . I experiment with many dishes and continue to delight my family everyday spoiling them for sure that leads to more pressure demanding me to come up with more innovative tasty food .
Ingredients for outer cover
Red , green and yellow capsicums – 2 each cut into 1/2 inch thick circles . Remove the inner white cores and seeds if any .
Ingredients for the filling
| Ingredients | Quantity |
| --- | --- |
| potato | 1/2 kg ( boiled , peeled and mashed ) |
| chicken | 200 gm (boneless ) |
| Turmeric powder | 1/4 tea spoon |
| onion | 3 chopped |
| garam masala powder | 1/4 tea spoon |
| green chillies | 4 crushed |
| ginger garlic paste | 1/2 tea spoon |
| chilli flakes | 1 tea spoon |
| coriander leaves | 2 table spoon chopped |
| mint leaves | 1 table spoon chopped |
| salt | to taste |
| lime juice | 1/2 lime |
Ingredients to coat
| Ingredients | Quantity |
| --- | --- |
| egg | 1 beaten |
| salt | pepper to taste |
| bread crumbs | 2 Cups |
Ingredients to shallow fry
oil – to shallow fry .
Method 
Boil chicken with turmeric powder , ginger garlic paste and salt to taste . Cook till dry n shred the chicken .
Heat 2 tablespoons of oil in a non stick kadai . Add onions and green chillies and fry to translucent . Add all the other ingredients one by one except for egg , bread crumbs , lime and oil to shallow fry . Sauté till all the flavours infuse together .
Remove from flame add lime juice . Mix well taste and adjust and cool . Make equal round balls of the potato mixture , dip in beaten egg . Then roll over in the bread crumbs .
Place each ball in between each capsicum found on and flatten with your palms to get a patty edged with the capsicum circle . dust with more bread crumbs .
Do the same with all the filling mix and capsicum rings . Heat oil and shallow fry the cutlets carefully on both sides for one minutes on each side to golden brown in colour .
Drain and serve hot with tomato ketchup , mayonnaise and sweet chilli sauce .
Notes
The same can be done with fish , mutton , beef and prawns .
Vegetarians can avoid the chicken and substitute with panner or soya chunks .
Be careful while shallow frying the cutlets as the capsicum rings tend to come out leaving the filling separate .