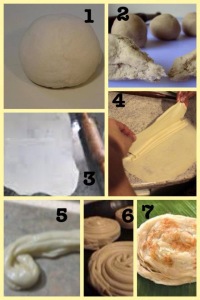 Preparation Time : 30 minutes
Cooking Time : 1-1/2 minutes for each parotta
Serving : 3-4 members
Description
Parotta . An  authentic flakey  bread very own to Tamil Nadu and Kerala With a lot of emotion attached to it . Mostly found in the small eateries in all places .  At home it's usually pronounced as barotta . Every alternative day barotta is made for dinner at moms place and is served with non – veg korma , white korma or a mutton chops curry . When in boarding school we were served parottas once in a week For dinner . three small ones on your plate , finish that and want more . You get piping hot white rice with rasam . The parota day in school is full of cribbing all around  …. i was like hey its barotta and why on earth are these people so annoyed about it . the first bite into my parota in school … the rubbery small circle which we had a never ending chewing experience made me realise the cribbing and annoying part around . I did join in with the rest but they stopped serving us parotas after a few months and we were saved finally . Married   of to Nellai , at hubby's place the barotta is called rotti and served with non veg salna but very rarely made at home . ( once in two months or so ) one among the first dishes I learnt to do was barotta at home and I was surprised about this bread being made very rarely . My hubby has his share of stories about rotti salna . Here at Nellai its very famous to ask for the rotti to be shredded and mixed with the salna , then served . This is known as pichu potta rotti salna . There was a restaurant in the name of niyas hotel in Nellai where my father – in – law used to get rotti and salna for my hubby and sister – in – law when they were kids . The entire house used to be in an excited mood about having rotti salna for dinner . Hubby used to exchange mutton pieces with his sister for more rotti . Nostalgia …. Well how can I forget to mention about the famous vaira maligai rotti salna here in Nellai and the border kadai of shenkottai near coutralam  . In total this bread is a cheap and cheerful part and parcel of every house hold through out south India and at my home its always on the menu first when I have guests and on regular basis I substitute flour / maida with wheat flour and make gothumai rotti   to be on the safer side because of health benefits .
Ingredients
| Ingredients | Quantity |
| --- | --- |
| Flour / maida | 4 cups heaped |
| Sugar | 1 /4 teaspoon |
| Egg | 1 |
| Milk | 1/4 cup |
| Water | just enough to get a dough out of the flour mixture |
| Salt | to taste |
| Oil | 1/2 cup (or 1/2 ghee + 1/2 coconut oil ) |
Method
Mix salt , sugar and flour together . Make a well in between and add the egg and milk . Mix well and knead to a smooth elastic dough adding just enough water .
Pat and knead well for 8- 10 minutes till the dough becomes pliable without breaking in the middle . Pour 2 teaspoons of oil on top of the dough , cover and keep aside for one to half an hour .
Apply oil on the work surface . Divide the dough equally into small orange sized balls . Place a ball on oiled surface , flatten it with hands and stretch all around so that it forms a thin circular diaphragm .
Apply little oil on top , fold like saree pleats by gathering the top on both sides and pleat them till the bottom.holding one end of the pleated dough, roll like a spiral and press the last edge on to the Center.
Make all the balls in the same manner and apply little oil over the top ( just wipe it with the oil in your palms ) keep covered until needed to be served . Just as you want to serve , Heat a tawa .
Pat each ball gently on top , flatten with hands like thick parathas or roll gently with a rolling pin . Fry on the hot tawa using little oil for both sides till golden brown in medium flame .
After removing from fire , pat the sides with a help of a towel to loosen the layers . Serve hot with veg or non – veg curry of your choice .