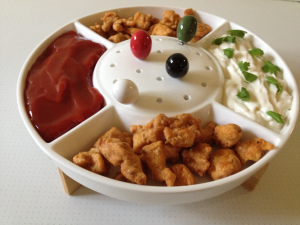 Preparation Time : 1 hour for marination + 15 minutes
Cooking Time : 3-4 minutes for each batch of chicken  deep fried
Serving : 4-5 members
Description
Having my son home with me after he finished his boarding life as a student had to greet him home with an inviting spread on the table . There are days when you are pressed for time and not in the mood to play around ingredients and cook for too long and get your self stuck in the kitchen . This time the reason being me wanting to be with my boy more to enjoy his presence at home than whiling  away my time in the kitchen . So   just want ahead instantly with what i had stocked at home and went according to the flow of what came to me  confidently knowing that my boy loves chicken bits deep fried to crisp .  Lost in touch a bit with his likes and dis – likes about his food habits as he's been in boarding for his entire schooling and collage . That's nearly around 16 years and kids as they grow to become teenagers they do tend to become strangers to parents in a way mainly because of the new need of so called privacy as getting to be adults . They become more silent ( mainly boys ) that every thing is a mystery now to be solved on our own , observing them through out .   oops coming back to the dish . As deep frying the chicken I had my boy around coming into the kitchen asking me what's cooking ? It smells so good . Gave him the first lot out of the pan and he just gobbled the entire lot .  I was just admiring my boy the true motherly way and enjoying his presence every bit for all the lost time with him before .
Ingredients
| Ingredients | Quantity |
| --- | --- |
| Bone less chicken bits | 500 grams |
| garlic | 2 flakes |
| Light soya sauce | 1 teaspoon |
| chilli sauce | 2 teaspoon |
| chilli powder | 1 teaspoon |
| salt | to taste |
| pepper | 1 teaspoon |
| green chilli | 3 crushed |
| egg | 1 |
| cornflour | 2 tablespoon |
| Flour / maida | 2 tablespoon |
| water | 1/ 4 cup or lesser to get a coating batter |
Method
Blend all the mentioned above ingredients together except for chicken and water . Check consistency of ground paste and add water to get a semi loose coating consistency batter .
Marinate boneless chicken bits in this marinade for one hour or more . Heat oil to deep fry to medium heat .
Deep fry the marinated chicken bits with a good coating of batter in batches to golden brown in colour for about 2 minutes .
Drain and Serve hot with tomato ketchup , mayonnaise and French fries .
Notes
Vegetarians can do the same with cauliflower , panner ,soya chunks , potato or mixed vegetable bits .