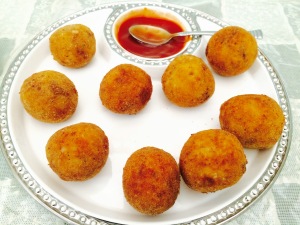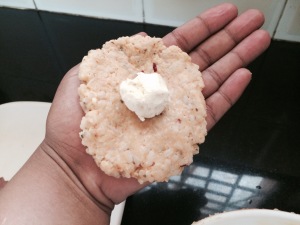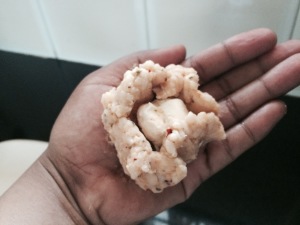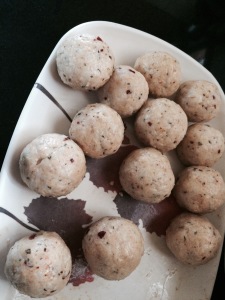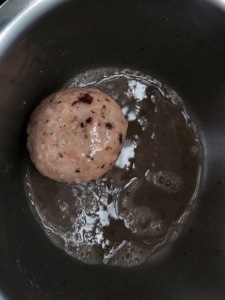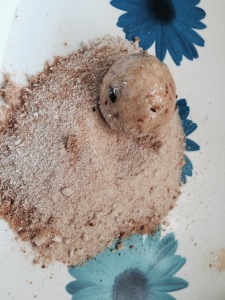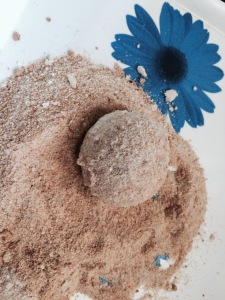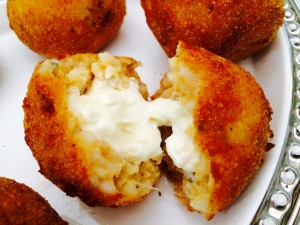 Preparation time : 30 minutes
Cooking time : 3-4 minutes for deep frying each batch
Serves : 4 members
Description
Some how to me Italian food always relate's to being romantic. No clue as to why I feel so but that's what it is to me. May be the ease in which the way Italian food is made not being precise like we Indians cook with a little of this and a little of that and loads of love put into each dish. My trip to Italy was done when I just knew pizza and pasta being Italian dishes. Not aware of the versatility the Italian cuisine has I just missed out my chance to explore the real authentic taste of Italy. But I do make up for all the lost time by exploring all the interesting dishes that I get to know in all means. This recipe's idea is from Italian Canadian born David rocca from one of his telly shows. I just love the way he uses simple, fresh, seasonal ingredients and cooks up a stir that helps any home chef to do the same any where. The authentic, easy to learn, classic Italian dishes that he shares are peasant cuisine which is at the heart of Italian cooking. I have added a few ingredients that are cupboard friendly to our Indian palate. I had my doubts about the rice crust breaking when deep fried but I was put to shame for sure. I made these rice balls when I had a cousin visit us with out notice and her favourite were these for sure with a "recipe please "following . The minute I told her these were made with left over rice, she was awe struck and looked at me like I was a genius. I had to tell her, it's David rocca who is the genius and not me .
| Ingredients | Quantity |
| --- | --- |
| Cooked rice | 2 cups |
| Rice flour | 1 teaspoon |
| Cornflour | 2 tablespoons |
| Red chilly flakes | to taste |
| Egg | 1 + 1 |
| Salt + pepper powder | to taste |
| Grated Parmesan cheese | 1 cup |
| Mozzarella cheese | 3/4 cup cubes |
| Garlic crushed | 1 clove |
| Dried oregano | 1/2 teaspoon |
| Dried basil | 1/2 teaspoon |
| Bread crumbs | 2 cups |
| Oil | to deep fry |
Method
Mash boiled rice well with hands. Add salt, cornflour, red chilly flakes, garlic, one egg, dried basil, dried oregano and Parmesan cheese to the mashed rice. Mix well. Then add rice flour and mix well. set aside for twenty minutes.
Make even lemon size ball's of the rice mixture, flatten it out in your palm to get a round disc of your palm size with 1/4 inch thickness.
Place a goose burry size of mozzarella cheese cube in the centre. Bring the edges of the rice disc towards the middle and roll to a ball with no cracks making sure the mozzarella cube is sealed well.
Beat one egg with salt and pepper to taste. Roll the filled rice ball over beaten egg. Remove and toss over bread crumbs making sure it's coated all around well. Do the same to all the balls. Place in the fridge for 30 minutes.
Heat oil to deep fry. Drop the rice balls in batches of four at a time and deep fry to crisp and golden in hot oil. Drain and serve hot with marinara Italian sauce or tomato sauce.