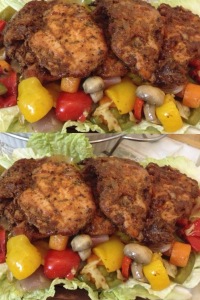 Preparation Time : 20 minutes + one hour for marination
Cooking Time : 40 minutes
Serving : 4 members
Description 
One best book is equal to hundred good friends but one good friend is equal to a whole library … This is what our former president of India dr. A.P.J . Abdul kalam quoted . Here I am blessed with two good friends Sindhu and sulu which means it's equal to a whole encyclopaedia . I know all of you might be thinking why on earth is she ( that's me ) writing about her friends here for a recipe description ??? Wait a little while more until I relieve the connection . We were in our own world of sweet nothings , happy and merry always . I still remember we never ever walked but would dance our way every where we went . Bully the junior boys and the senior ones at times if that did try to act smart with us . We would kill the boys by just looking at them and giggle our way out until we drop down and roll in the floor that lead to the guys getting so nervous . we three were the most hated by all the girls ( not sure why ). Sindhu was the most rebellious , very beautiful and a very very very good classical dancer .sulu the talented gem of our school , you name any competition ( with in the school or inter – school ) she is there in it and comes back with a prize for sure . The most popular one among us for good things of course and have to mention the fan following she had in other schools as well . Me the great was the quietest , lost and confused in my own world figuring out what I am but the funniest . I just have to open my mouth and there these two are laughing non – stop . I haven't lost this craziness in me a bit , it sparks up when ever I am with them . We did part our ways and got busy with our lives and today Sindhu is busy attending film parties and is always into the world of lime light and glamour as she has two movie stars at home . Sulu is a home baker who creates magic with her cakes and baked goodies and me just keeping myself busy with all you people sharing my thoughts and recipes . Never in my dreams did I think sulu and myself would end up in some thing related to food as we were busy with other things as little ones . Sindhu thinks we are talking in Greek or Spanish when sulu and myself discuss food but she loves to be treated with what we cook . ( enough of you and your friends , please come to the point . Ok, ok . I always keep going on and on about the dish so for a change just wanted to take you all into a nostalgic roller coster ride with me ) Now this recipe was shared to me by sulu and was a block buster super hit on the table when served but the veggies below was not fancied much like all the girls in school hated the three of us for no reason :-)))
Ingredients for marinate
| Ingredients | Quantity |
| --- | --- |
| Chicken breasts | 3 ( cut each into two vertically ) |
| Dried basil , oregano , thyme , rose Mary , dill | 1/2 teaspoon each |
| Salt + pepper | to taste |
| Onion | 1 big chopped |
Ingredients for the barbecue sauce
| Ingredients | Quantity |
| --- | --- |
| Vinegar | 1 tablespoon |
| Tomato purée | 3 tablespoon ( blitz one big tomato to a purée in a food processor ) |
| Worcestershire sauce | 1 teaspoon |
| Brown sugar | 2 teaspoon |
| Ginger garlic paste | 2 teaspoon |
| Mustard paste | 2 teaspoon |
| Red chilli powder | to taste |
| Salt | to taste |
Other ingredients
| ingredients | Quantity |
| --- | --- |
| Olive oil | 1 tablespoon + 1 tablespoon |
| Boiled carrot | 1 big cubed |
| Boiled Mushrooms | 5 cut into 2 |
| Boiled potato | 1 big cut into cubes |
| Red , yellow and green capsicum | Red , yellow and green capsicum |
| Dried herbs | oregano , basil , thyme |
| rose Mary , dill | 1/4 teaspoon each |
| Garlic | 1 clove crushed |
| Salt + pepper | to taste |
| Lettuce leaves | 6 to 8 |
Method 
Beat the vertically cut chicken breasts with a meat hammer lightly . Add the dried herbs , salt , pepper and chopped onion together and toss over the hammered chicken breasts . Set aside to marinate for one hour .
Mix all the ingredients mentioned for the barbecue sauce . Taste and adjust . Set aside .
Preheat oven to 200 degree Celsius for ten minutes .Heat one tablespoon olive oil . Add crushed garlic .
When brown add all the vegetables , salt , pepper and dried herbs . Toss well for a minute . Remove from heat and set aside .
Place the marinated chicken breasts over a lined baking tray . Drizzle one tablespoon oil over the chicken breasts and bake for 30 minutes .
Every five minutes once baste the barbecue sauce over the chicken breasts side to side . Once cooked through .make sure to finish of the barbecue sauce by basting well .
Turn the oven mode to grill and cook further for another 5 minutes . Remove from oven . Lay a bed of lettuce leaves on the bottom of a serving plate .
Top with the sautéed vegetables . Place the hot and sweet barbecued chicken breasts on top and serve immediately.