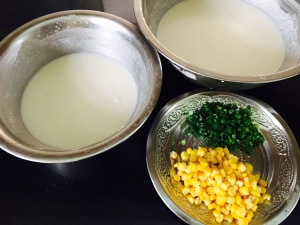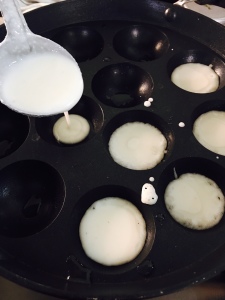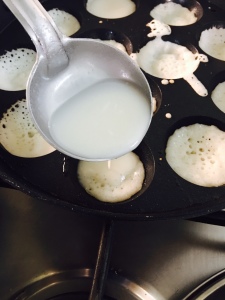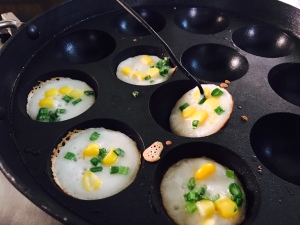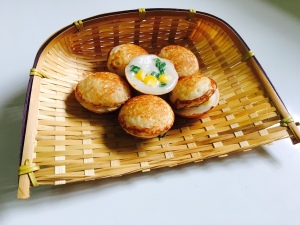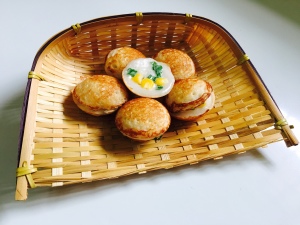 Preparation time : 39 minutes
Cooking time      : 5 minutes for each batch cooked
Serves                : 8 members
Description
Any holiday destination we go to, I make sure to have a foodie day for myself. The others along with me are welcome to join me always. Two years back on my trip to London it was my day and I choose to visit the borough market in southwark. It is one of the oldest food market's in London. In the year 2014, it celebrated its 1000 years of existence. I was blown away with the food counters from countries all over the world to their local fresh produce. I felt like a kid in a candy store. My mind had a million things running with in me with excitement taking note of so many new flavor's, ingredients, and authentic cuisine of many countries. After a long three hour walk through out the entire market, just before we could leave. I was drawn towards a counter from where I could smell a sweet aroma filling the air. Checked to see what it was? Two Asian ladies were busy making something like our Tamil style Kuli paniyaram. I immediately placed an order for one plate. It was piping hot, so had to wait to gobble up a few to know its taste. They were sweet with the flavor of coconut over powering and a crunch from the sweet corn on top. It vanished with a few seconds time. After that it was a forgotten story but I made sure to talk about it when ever I shared my foodie experience in the borough market to friends. This year on my vacation to Bangkok in the floating market, me gazing at things around. I get to see a lady make the same sweet in a boat. I immediately buy two plates this time. I gave one with dad and I was relishing the other plate. Mom was waiting for her share once dad was done with the sweet but dad finished the entire plate leaving mom staring at him with a naive look. I gave her mine and we had a good laugh over this incident. Only then did I get to know this was a Thai dish. I took pictures of this and showed it to our cab driver and told him I want the recipe. He was so sweet to get a hand written note of the recipe in Thai from his wife which he translated to me in English with so much difficulty. I some how managed to take note and tried it out at my home kitchen. I was surprised with the results being pitch perfect just like what I had in London and Bangkok. I am totally in love with my journey of this khanom krok from London to Bangkok to my home kitchen.
Ingredients for the first layer
| Ingredients | Quantity |
| --- | --- |
| Rice flour | 1 cup |
| Thick coconut milk | 1 cup |
| Cooked rice | 4 tablespoons |
| Grated coconut | 1/2 cup |
| Club soda | 1 cup |
| Sugar | 2 tablespoons |
| Salt | 1/2 teaspoon |
Method for the first layer
Grind cooked rice + grated coconut and 1/4 cup of club soda to a smooth paste and keep aside.
Mix all the other ingredients mentioned under the first layer together.
Mix in the ground smooth boiled rice paste and keep aside.
Ingredients for the second layer
| Ingredients | Quantity |
| --- | --- |
| Thick coconut milk | 2 cups |
| Rice flour | 4 tablespoons |
| Sugar | 8 tablespoons |
| Salt | 1/4 teaspoon |
| Green onion | 1/4 cup chopped |
| Sweet corn kernels | 1/4 cup boiled |
Method for the second layer
Mix all the ingredients together and mix well with no lumps.
How to proceed
Heat a kulipaniyaram pan / appi pan . Grease with oil dipped tissue into all the dents.
Pour around 1 tablespoon of the first layer batter into all the greased dents. Then swirl the pan in clock wise moment making sure the batter in all the dents cover to the top of the dent giving it a half circle cup shape.
Pour 1 teaspoon of second layer mix over into each dent over the first layer.
Sprinkle chopped onion stem greens and cooked sweet corn kernels.
Cover and cook further for five to six minutes until cooked through and has a golden crust on the first layer.
Remove with a spoon and serve hot with two cooked khanom krok paired together.