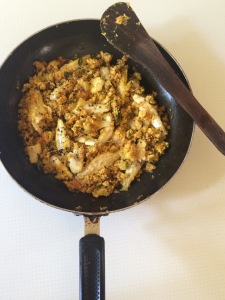 Preparation Time   : 20 minutes
Cooking Time        : 15 – 20 minutes
Serving                 : 4 members
Description
Fish and any thing sour together is a killer combination that gets me weak on my knees. I guess, being pampered and fed with the red hot fish curries with raw mangoes in it as a little one just soothed my tongue and soul for keeps. This dish is one such killer of a dish where I found it very difficult to stop eating it. The sourness of raw mangoes that marries with the fish and balance's   with grated coconut and surprise's you with a slight crunch from the crushed pepper corns are to die for. I did make this dish when on a holiday at moms place for a family lunch with all my aunts and grand ma. The meen manga peera was vanished in seconds off the table as the entire family is bonkers about sourness in any form. My aunt nazeem Akka did crack a joke saying this dish is so yum but the name peera is not so nice. Well, I have no clue as to why this authentic dish of Kerala is named so.. All that matters… is it tastes Devine… Isn't it ???
Ingredients to marinade
| Ingredients | Quantity |
| --- | --- |
| Red chilly powder | 1/2 teaspoon |
| Turmeric powder | 1/4 teaspoon |
| Salt | to taste |
| Nethili fish ( anchovies ) | 250 grams |
Other ingredients<
| ingredients | Quantity |
| --- | --- |
| Green mango | 1 big peeled and chopped |
| Grated coconut | 1 cup |
| Small onion | 1/2 cup |
| Green chillies | 3 |
| Ginger | 1 inch piece |
| Garlic cloves | 5 |
| Crushed pepper corns | 1/2 teaspoon |
| Turmeric powder | 1/2 teaspoon |
| Red chilly powder | 1/4 teaspoon |
| Salt | to taste |
| Curry leaves | few |
| Mustard seeds | 1/2 teaspoon |
| Coconut oil | 2 tablespoons |
Method
Marinate fish with red chilly powder, turmeric powder and salt to taste .  blitz small onion , green chillies, ginger and garlic to a coarse paste with out adding water.
Mix coconut , turmeric powder, red chilly powder together. heat coconut oil in a wide heavy bottomed pan.
Add mustard seeds. Once they splutter add the curry leaves and coarsely ground masala .
Sauté for two minutesadd raw mango chopped bits and sauté for five minutes over medium heat. Add grated coconut mix and mix well.
Add fish, 1/4 cup water and salt to taste ( be careful with adding salt as we have marinated the fish with salt already ). Cook covered until fish is cooked and all the water dries out.
sprinkle crushed pepper corns and serve hot.