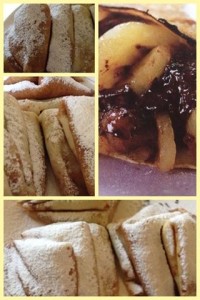 Preparation Time : 20 minutes
Cooking Time : 15 minutes
Serving : 4 to 6 members
Description
Nutella apple cream cheese crapes. A recipe i came up suddently with all the available ingredients at home for brakfast. I was confident about the results as every ingredient used is sure a fire cracker combination with basic crapes, apples and a chocolaty cheesy mixture. One weird thing about this recipe is there is no water required. Water reminds me of one incident that stuck to my mind as a kid. There was a house called kannadi maligai near our house in saibaba colony at coimbatore. A huge bungalow with a lot of glass (guess that's why it was called kannadi maligai which means glass bungalow in Tamil)they had a big mud pot of water with a tumbler, kept out of their house near the gate. Once on a hot summer day, i was crossing that house by walk and saw so many people drink water from that mud pot. Then and there i made up my mind that i should also do the same inshaallah when i own a house to cool off people from their thirst with warmth and a sense of well being. Now i have a mud pot of water in front of my house. Whenever i see people drink water from it, my heart is filled with soothing effect. My house is addressed as the house with a mud pot of water by every one now and the best part is in case the water in the mud pot is over , people ring the gate bell and ask us to fill the mud pot with water. A little humble thing done with generosity makes a big difference to others.
Ingredients for the crapes
| Ingredients | Quantity |
| --- | --- |
| Maida | 75 grams |
| Eggs | 2 lightly beaten |
| Milk | 150 ml |
| Salt | a pinch |
| Vanilla essence | 1 teaspoon |
Ingredients for the filling
| Ingredients | Quantity |
| --- | --- |
| Apples | 4 cored , peeled and chopped |
| Sugar | 50 grams |
| Nutella | 200 grams |
| Cream cheese or mascarpone cheese | 200 grams |
| Icing sugar | to dust |
Method
Mix all the ingredients together for the crapes , making sure no lumps are formed . set aside for 10 minutes .
Cook the chopped apples with sugar till cooked through and the moister dries out . set aside to cool . Heat a non – stick kadai ( appam kadai ) and pour 1/2 cup of batter and rotate the pan to get an evenly thin crape .
Close and cook for a minute . Remove and set aside . Do the same till all the batter is over .
Mix cream cheese or mascarpone cheese and Nutella together . Apply a tablespoon of Nutella cheese mix all over one side of the crape .
Scatter 1 tablespoon full of the cooked apples over and fold into triangles .
Do the same with the remaining crapes , Nutella cheese mix and cooked apples . Finally dust icing sugar over and serve warm or chill .