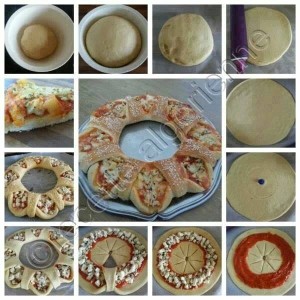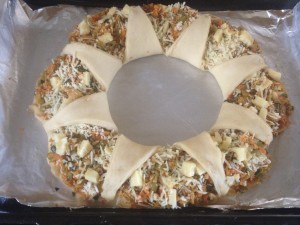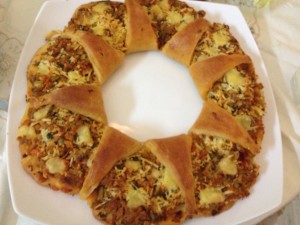 Preparation Time : 1 hour 45 -50 minutes
Cooking Time : 10 minutes for the filling + 18 – 20 minutes to bake the sunflower pizza.
Serving : 8 members
Description
This sunflower pizza was inspired by a step by step picture I came a cross in the world wide net ( the same step by step picture that I have posted here as well ) I just followed the simple yet ingenious picture tutorial to get the sunflower shape right but the bread recipe and the filling recipe are the ones I follow at home always . Only while baking this sunflower pizza did I realize that with a bit of baking skills you can produce virtually any baked goodies you like to impress . For instance this recipe is a sunflower shaped bread with pizza filling for which I employed the simple bread recipe and right after that developed a sunflower shaped masterpiece. It's a festive recipe, because of the bread's special form, so it will be perfect as a center piece to entertain guests and loved ones . You can add any filling you want to your choice and tucking into the melting cheesy sunflower pizza is soul satisfying for sure .
Ingredients for the filling
| Ingredients | Quantity |
| --- | --- |
| Minced lamb / chicken | ¼ kg |
| 2 medium sized onion | 2 chopped |
| Chilly powder | 1 teaspoon |
| Pepper powder | 1/4 teaspoon |
| Mixed chopped vegetables ( mushrooms , carrots , beans , capsicum , cabbage ) | 1 cup |
| Chilli flakes | to taste |
| Dried herbs ( oregano + basil ) | 1/4 teaspoon each |
| Ginger and garlic crushed | 1/ 4 teaspoon each |
| Coriander leaves | chopped few |
| Salt | to taste |
Method for filling
In a pressure cooker put the minced meat along with chilli powder , pepper powder , crushed ginger garlic , salt and little water .
Let it cook up to two whistles . heat oil , saute the chopped onions to translucent .add the chopped mixed vegetables and saute to half cooked then add the cooked minced meat and cook to dry .
Taste and adjust seasoning . Garnish with coriander leaves and dried herbs and chilli flakes .
Cool completely and set aside .
Ingredients for dough recipe
| Ingredients | Quantity |
| --- | --- |
| All purpose flour | 2 cups |
| Warm milk | ¾ cup |
| Instant yeast | 1 teaspoon |
| Baking powder | a pinch |
| sugar | ½ teaspoon |
| salt | 1 teaspoon |
| Egg (lightly beaten and divided in half) | 1 |
| Melted butter | 1 tablespoon |
| oil | 2 tablespoon |
| Milk powder | 1 tablespoon |
Method for dough recipe
Sieve the flour , add milk powder , baking powder, sugar, yeast and salt.Then add the oil, butter and half the egg (reserve the other half for brushing the bread later) and mix together.
Now add the milk gradually whilst kneading. You might not need it all, so add it sparingly until your dough is nice and soft.
If more milk is needed to get a soft dough consistency, warm a little more and use. Knead for a good 8-10 minutes. The more you knead the softer the bread results will be.
Touch a bit of oil with your fingertips and apply all over the ball of dough. Cover in a bowl and set aside for 40 mins to an hour for it to double in size.
How to proceed
Punch the doubled dough down and roll the entire dough into a perfect round shaped circle to 1/4 inch thickness using a rolling pin .place the rolled circle over a greased / parchment paper or foil lined baking tray . Apply little melted butter all around the rolled circle .
Place a bottle cap in the center of the round circle and take a medium size round lid with sharp edges ( I used a stainless steel round lid ) of any container and place above the bottle cap in the center and make an impression with the lid .
Remove the bottle cap and the lid . Cut inwards of the medium circle that we created with the medium lid to 8 equal triangles like we cut a pizza . Make sure you have an outer ring border of the rolled circle .
Apply generous amount of tomato sauce all around the outer ring border leaving a 1/4 inch of the rolled circle as a border again .
Top with cooled filling all around the tomato sauce ring . Garnish the filling all around with grated cheese .
Take each cut triangle from the inner circle and bring it outwards tucking the tip of the triangle into the outer rim border . Follow and do the same to all the remaining triangles to get a sunflower shape . Brush with a little melted butter again all over the top of the dough .
Cover with a light kitchen towel and allow the buns to rest for about 30 minutes to allow them to expand again slightly.
When ready to bake, preheat the oven at 180 C. Brush the remaining half egg over the bread and sprinkle sesame seeds. Bake for about 18-20 minutes or until the buns are done and golden.
Remove and brush them with some butter, keep them covered with a kitchen towel to retain their softness until time for serving.
Notes
The filling can be made with veggies , cheese , panneer , fish , prawn or anything to your taste .
Sweet fillings can also be used for the sweet version .
Store the sunflower pizza in the refrigerator in an air tight container and steam – microwave before serving for a minute . Best served and had on the day made and can be stored for the next day not more than that .
This is the best ever bread recipe I have come across and I follow it for any recipe that demands to bake bread … So peeps don't forget to book mark the bread recipe .