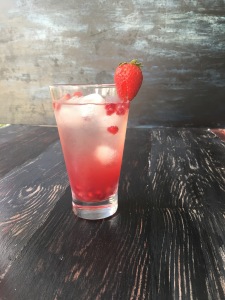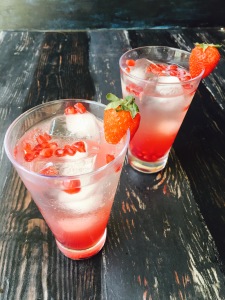 Preparation time : 5 minutes
Cooking time      : 5 minutes
Serves                : 2 members
Description
Getting to see all high end, classy looking mock tails at restaurant's as a kid during my holidays to Bangalore, I used to wonder how they make these. Now, when I experiment with such mock tails, my mind travel's back to those day's of me awe struck seeing those long glass filled with chilled delicious drinks. I remember, at chola Sheraton hotel , chennai .. my cousin Aneez , my little brother and myself were having breakfast . We showed the waiter pointing our fingers to the next table mock tail drink and said " we want that exact drink that they are having ". We were a crazy bunch I guess.
This mock tail was made to duplicate the mock tail I had at Bangalore in Nando's restaurant. I just fell in love with how the pomegranate kernels were floating like jewels on top with the clear sparking water. I took my time to study what they must have done to get this effect. Then slowly drank it tasting it carefully registering the ingredients used. I tried my best to and came up with this mock tail drink that was yum. The sparking water sure does pep you up. Apt drink for the up coming summer for sure.
Ingredients
| Ingredients | Quantity |
| --- | --- |
| Pomegranate juice | 300 ml |
| Sugar syrup | 10 ml |
| Ice cubes | 8 |
| Sparkling water / soda water | 180 ml |
| Strawberries | 2 cut into heart shape |
| Pomegranate kernels | few |
Method
Mix pomegranate juice and sugar syrup together. Pour into two tall glasses to hall full.
Top with 4 ice cubes. Pour the sparking water slowly into the glass with the help of an inverted spoon.
sprinkle pomegranate kernels over. Decorator with heart shaped strawberries on the side of each tall glass. Serve chilled.