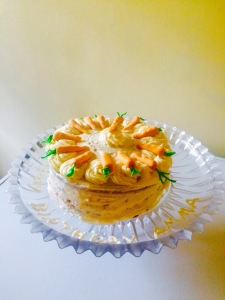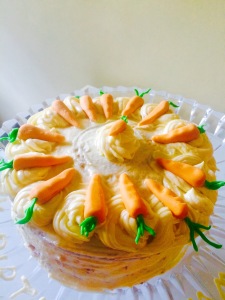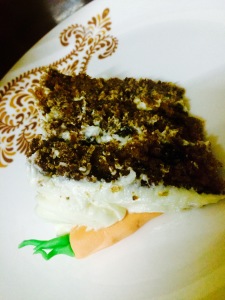 Preparation time : 30 minutes + another 30 minutes to assemble the cake
Cooking time       : 45-50 minutes
Serves                  : 8-10 members
Recipe source     : chow.com
Description
Mahmutha rabbani… My father-in-laws elder brothers wife. A lady I admire in all means and my main motivation to write my first cook book. To me if you admire some one, you should go ahead and tell them.Wanting to give a surprise to on her birthday by baking a cake and  to bake a cake for an elderly person is a serious job to be done keeping in mind about the health issues. I googled a lot and settled down for a carrot cake from chow.com. I had to follow the recipe religiously as when it comes to baking a cake, you just can't play with the ingredients  or measurements as the more precise you are the better the results. I was very happy with the cake from its rise, texture, aroma to taste. Started assembling the cake and that's when all the problem started. The cream cheese frosting started to get too loose as it was very humid here, had to shift to an air conditioned room and continue. When my job was done.. The cake looked like a leaning tower of Pisa.. Now what do I do about this.. some how managed and made the cake look decent enough. With my fingers crossed took the cake to her place and she insisted we cut it at her elder sons place. My tummy had more butterflies now as the cake started leaning again and was worried about it traveling around though to the next door.  The cake was cut and we all enjoyed our piece of cake. Late in the night I get a call saying the cake was too good and hubby dears cousin brother gobbled up the entire lot. What more do you need.. This leaning tower of Pisa was in deed a blonder with a wonder…
| Ingredients | Quantity |
| --- | --- |
| Flour / maida | 2 cups |
| Baking soda | 2 teaspoons |
| Baking powder | 2 teaspoons |
| Salt | 1/2 teaspoon |
| Ground cinnamon | 3 teaspoons ( might seem like a lot but I assure you it adds so much more flavour) |
| Nutmeg powder | 1/2 teaspoon |
| Eggs | 4 |
| Vegetable oil | 1 1/4 cup |
| Sugar | 1 cup |
| Brown sugar | 1 cup |
| Vanilla essence | 2 teaspoons |
| Grated Carrots | 3 cups |
| Chopped walnuts | pecans - 1 cup ( you can use cashews + almonds instead ) |
| Raisins | 1 cup ( I didn't use as I don't like it in my cake ) |
Cream cheese frosting ingredients
| Ingredients | Quantity |
| --- | --- |
| Cream cheese | 8 ounce softened |
| Butter | 1/2 cup softened |
| Sugar powdered | 2 cups |
| Vanilla essence | 1 teaspoon |
Method for cake
Preheat oven to 180 degree Celsius.
Prepare two nine inch greased cake pans with parchment paper.
Mix the dry ingredients flour, baking powder, baking soda, salt, cinnamon powder, nutmeg powder together.
In another bowl whisk together eggs, oil, both sugars and vanilla essence for a minute.
Add the mixed dry ingredients to the whisked wet ingredients and mix for two minutes. Add grated Carrots, nuts and raisins.
Pour the batter into prepared two cake tins equally and bake for 45-50 minutes. Test doneness by inserting a tooth pick into the middle of the cake. If it comes out clean, the cake is cooked through. Cool completely.
Method for frosting
Beat cream cheese and  butter creamy. Add powdered sugar and beat for a minut . Mix in vanilla essence and use to frost the cake.
How to proceed
Fill the frosting in between the two cooled cakes,  all over and top evenly. Decorate to choice. Cut and serve.
Notes
The frosting tends to get too loose If placed out side at room temperature so place it in the refrigerator once mixed, until to be used over the cooled cakes.