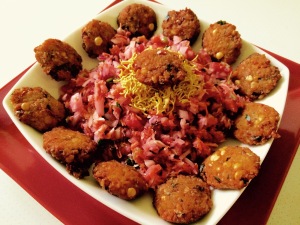 Preparation Time   : 20 minutes if using store brought Vadai's or else
1 hour
Cooking Time        : 10 minute if using store brought Vadai's or else 20 minutes
Serving                  : 6-8 members
Description
The need for simple and Un complicated recipes are always in demand and if it is during the holy month of Ramadan….. It the more welcome for sure. Here at hubby dear's place we ladies (cousins, relatives and neighbors) have night prayers at one house. As the prayer lasts for an hour or more. We take turns to bring some thing to munch with a sulaimani tea after the prayers are over while chatting and catching up on that day's updates. Usually it's always a home made deep fried snack. Once my friend meera aboo Thamby had got a bhel like salad which was a great hit. All ladies with great enthusiasm got the recipe as well. We were all blown away with the recipe being so easy yet an innovative way to use up the left over paruppu Vadai's which is a must on the ifthar table every day in all house holds here. From then on wards, It has been added to my Iftar table and is my comfort bowl of goodness to munch around when ever I feel like eating after I break my fast. This salad can be made by ordinary people who like to perform extra ordinary feasts for their tables (like me) and add it to their routine family meals as well. It's with such spectacular variety and uniqueness with practical simplified methods that let you achieve smiles on the table at home.
Ingredients
| Ingredients | Quantity |
| --- | --- |
| Paruppu Vadai's | 10 to 12 |
| Carrot | 1 medium size grated finely |
| Cabbage | 1/4 cup grated finely |
| Beetroot | 1/4 of a whole medium size beetroot grated finely |
| Onion | 1 grated finely |
| Tomato | 1 chopped finely |
| Boiled peanuts | 2 teaspoons ( optional but gives a nice taste . I didn't use as it was not there in my pantry at home ) |
| Green chilly | 1 chopped |
| Coriander leaves | 1 teaspoon chopped |
| Lime juice | 1/2 a lime |
| Salt | to taste |
| Sev | 1/4 cup to garnish |
| Chat masala | 1/4 teaspoon to sprinkle ( optional ) |
Method
Mix all the ingredients together except for paruppu Vadai's, sev and chat masala powder.
Mix well. Taste and adjust seasoning. Place in the refrigerator until needed to be served.
Just before serving, crumble the paruppu Vadai's and toss over the chilled salad.
Sprinkle chat masala powder and sev . serve immediately.
Notes 
I add left over samosa sheets cut into bits and deep fried to crisp also instead of paruppu Vadai's at times.
You can add crushed pepper paped, kakra as well along with the Vadai's for another variation.