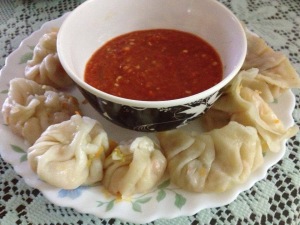 Preparation Time : 35 minutes
Cooking Time : 10-12 minutes
Serving : 4-6 members
Description
Momo's . A steamed nibble very own to Tibet . I got to know about this delicacy only a few years back . My first try with this dish was a big disaster . After that I just didn't want to try it at home , instead preferred eating out . The best momo's I have had are at ooty in a small stall just out side modern department stores . My friends Sindhu , her four girls and sulu along with her school friends sai vidya naveen and Thelma just gobbled up the entire stock in the tiny stall . The following month I happened to go with my cousins to the same place but it didn't taste as good as when with friends . Guess the girl power worked then . These momo's were done under the watch full eyes of a Tibetian  girl anandhitha who helped me out with her mothers recipe . It worked perfect except that I was very slow in folding the petals . ( Practice … practice  .. practice  and only practice  can perfect any task ) Anandhitha was so fast looked as if she had magic in her hands . So the perfect looking momo's were done by anandhitha and the not so perfect ones were of course done by me the great :-)) Another not deep fried nibble apt to be had while breaking your fast . All the best folks in advance for the petal folding part .
Ingredients for dough
| Ingredients | Quantity |
| --- | --- |
| Flour / maida | 4 cups |
| Oil | 1 tablespoon |
| Water | enough to knead to get a dough |
| Salt | a pinch |
Method for dough
Mix all the above mentioned ingredients together to get a smooth dough .
Set aside covered for half an hour .
Filling ingredients
| ingredients | Quantity |
| --- | --- |
| Ground raw boneless chicken | 1/4 kg ( grind with out water ) |
| Carrot | 1 shredded |
| Beans | 4 chopped thinly |
| Cabbage | 1/4 cup shredded |
| Spring onion | 1 stalk chopped |
| Ginger | 1 teaspoon grated |
| Garlic | 4 flakes minced |
| Green chillies | to taste minced |
| Pepper powder | to taste |
| Salt | to taste |
Method for filling
Mix all the ingredients mentioned above for the filling together .
Add seasoning to taste and combine well .
Set aside covered in the refrigerator for one hour letting all the flavours infuse together .
Method to assemble
Knead the prepared dough once again . Roll  one inch balls out of the dough .Take one ball and roll between your palms to a spherical shape . Dust work counter/board with flour .
Flatten a ball on the dusted flour place to a 2 inch circle with the help of your palms . Do the same with all the dough balls and set aside covered with a bowl so that they don't dry out .
Use a rolling pin and roll out each of the flattened circles to get wrappers of three inch diameter in circular shape .
Make sure the middle of the wrappers are slightly thicker than the edges so that you get well executed wrappers that seal the filling well .
Do the same with all the flattened dough and keep covered making sure they do not dry out .
Hold rolled wrapper on one palm , place one tablespoon filling mixture in the middle and with the other hand bring all the edges together to the Center , making petals . Pinch and twist the petals to ensure the filling is packed inside perfectly .
Heat a greased bamboo steamer ( or use your iddli steamer that is greased properly . ) with water and  3 ripe tomatoes  in the bottom vessel . Arrange the momo's in the greased bamboo / iddli steamer .
Close with a lid and steam for about 10 minutes or until cooked through . Serve hot immediately with hot momo sauce .
Ingredients Hot Momo sauce
| Ingredients | Quantity |
| --- | --- |
| RipeTomatoes | 3 big |
| Garlic flakes | 2 |
| Dry red chillies | 8 |
| Salt | to taste |
Method for momo sauce
Blend the tomatoes that are at the bottom of the bamboo steamer vessel along with dry red chillies ,
Garlic flakes and salt to taste to get a red coloured hot momo sauce .
Notes
vegetarian's can do the same by adding more quantity of vegetables avoiding the chicken .
Ground Prawn also can be added instead of ground chicken
You can add lesser red dry chillies to get a blander red momo sauce .
You can store the steamed momo's in  foil paper rolled around each momo individually and then packed in a zip lock cover and kept in the refrigerator . Steam the momo's just before you want to serve .
You can also boil the momo's in boiling salted water dropping the momo's one at a time ( 5 momos only ) and cook for about 10 minutes until they float on top . Drain and serve immediately .
You can also sauté the cooked momo's in little butter and serve .