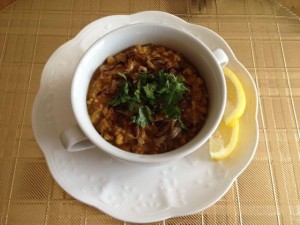 Preparation Time : 40 minutes
Cooking Time : 1 hour 10 minutes
Serving : 4 to 6 members
Description
Noorie meeran from USA sent me this mail for the competition. This was her mother-in-law recipe for the competition. Her description follows Akka, Perima made haleem today and she wants to send this for the competition. when is the deadline ?
Haleem is a delectable dish which is popular among muslims in Hyderabad, India and particularly consumed during the months of Ramadan. this dish is traditionally made with soaking wheat, Barley and Channa Dhal over night. A spicy meat gravy is cooked until the meat becomes tender and mixed with the cooked, soaked lentils. It is a nutritional , fulfilling and versatile dish that you can serve on any day.
Ingredients
Ingredients

Quantity

Channa Dhal
3/4 cup
Barley
1/4 cup
Broken Wheat
Handful
Rinse and Soak them in water for about 30 mins.
Goat Meat with bone
1/2 kg
Onion
1 chopped & 2 sliced (for garnishing)
Tomato
1 Big pureed
Ginger Garlic Paste
1 tablespoon
Chilly Powder
1 teaspoon
Cumin Powder
1 teaspoon
Coriander Powder
2 teaspoon
Turmeric Powder
1/2 teaspoon
Salt
1 teaspoon
Garam Masala
1/2 teaspoon
Ghee
2 tablespoon
Oil
4 tablespoon
Method
In a pressure cooker, add Ghee and Oil.Sautee the chopped onions. Once its golden brown, add the meat and sautee to get rid of excess water.
Add ginger-garlic paste and all the spices and sautee to get rid of raw smell. Add the soaked lentils.
Add more than enough water to cover the meat and lentils, make sure to add enough water to prevent the dhal and meat from burning at the bottom of the pot.
Pressure cook this for 30 minutes.
Once its done, make sure the meat is tender and taste it to adjust salt accordingly. Haleem will be thick because of the Dhal and wheat mixture. Slightly thicker than a soup.
Remove the meat using a spoon and discard the bones and shred the meat. Put them back in the gravy you took it from.
Garnish
Haleem comes with accompaniments like chopped coriander leaves, fried and caramelized onions, ginger slices and lemon.
Fry the sliced onions in oil until they are dark brown and well caramelized. Cut some ginger pieces and shred them into thin slices Chop some coriander leaves. Slice few lemons.
To Serve
In a bowl, pour the haleem, garnish with caramelized onions, ginger slices, coriander leaves and squeeze lemon on top. Enjoy!