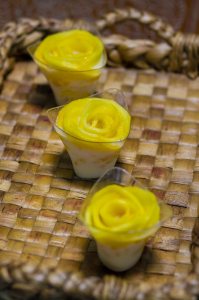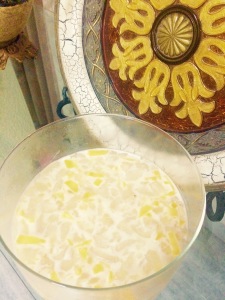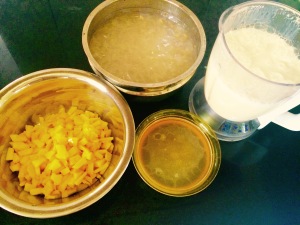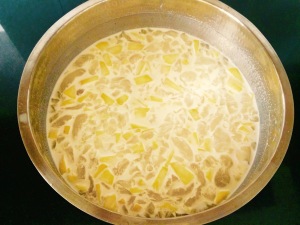 Preparation time : 10 minutes
Cooking time      : 1 -2 minutes + setting time in the refrigerator for 6 hours or overnight
Serves                 : 6-8 members
Description
Sending over food to people who really cook well gets me loose on my knees and if it's to my father-in-laws place it's even worse. Every year in the holy month of Ramadan, I make sure to share biriyani with all my close and dear ones. This year I just wanted to surprise every one with a dessert, snack and a main course instead. This dessert was sent over to my father-in-laws elder brother and younger brothers homes. As the entire holy month of Ramadan was extremely hot and humid, I wanted to make a dessert that was light with no eggs and less sugar. I was going through all my recipe links and I saw the tropical punch mock tail link that has ripe mangoes, tender coconut and palm fruit in it. The bulb moment… with a splash of spark in my mind, why not make a pudding with this same combination?? Tender coconut pudding is a regular at home which I can make when blind folded as well… I just added ripe mango bits and crushed Palm fruits to my regular tender coconut pudding. The results were too good with the recipe being asked from both my father-in-laws place. The little remains at home was relished by me alone.. Enjoying that moment of having it all for myself and not to share.. (Shame less, greedy, greedy me)
| Ingredients | Quantity |
| --- | --- |
| condensed milk | 1 cup |
| tender coconut water | 1 cup + 1/4 cup to soak the gelatin |
| milk | 1 cup |
| Vegetarian gelatin | 3 and a 1/2 tea spoons |
| Tender coconut flesh | of 1 tender coconut |
| Ripe mango | 1 peeled and chopped |
| Palm fruits | 8 peeled and crushed with hands |
Method
Soak gelatin in a microwave safe bowl with 1/4 cup tender coconut water. Set aside to bloom for 5 minutes.
Blend tender coconut water, milk and condensed milk together. Pour into wide vessel. Mix in the tender coconut flesh, chopped mangoes and crushed palm fruits. Mix well.
Microwave the bloomed gelatin for 30 seconds to dissolve. Cool to room temperature.
Mix the cooled gelatin into the tropical pudding mix and pour into a pudding tray or individual cups.
Place in the refrigerator to set for six hours or overnight and serve chilled.
Notes
In case you don't have a microwave, you can Double boil the gelatin till dissolved and gets to a liquid running consistency. Cool completely and use.