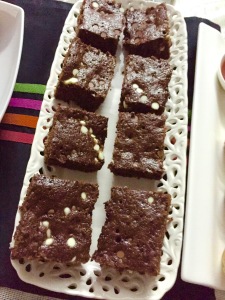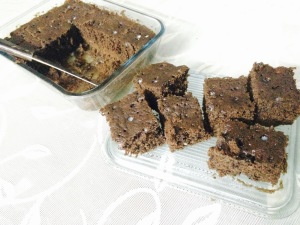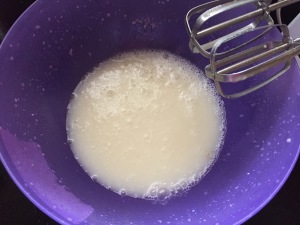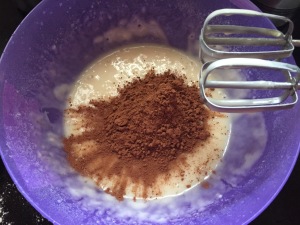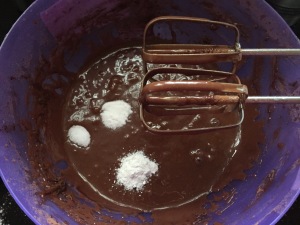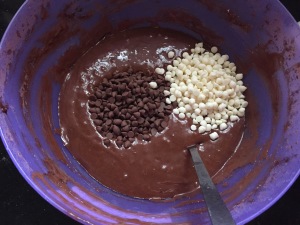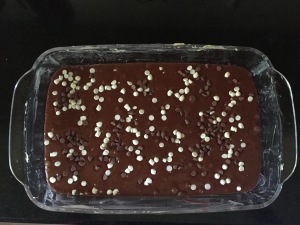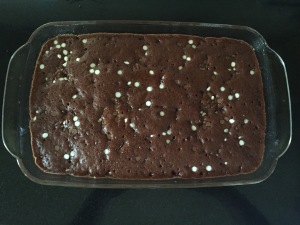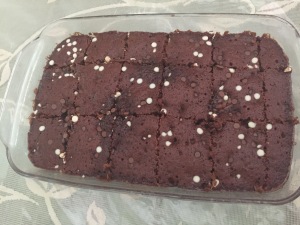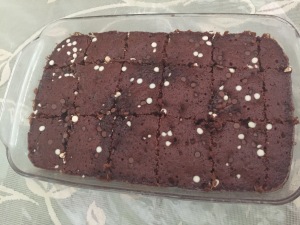 Preparation time : 10 minutes
Cooking time      : 5- 6 minutes
Serves               :  8 members
Description
There are a few desserts I rely on for a quick fix and this is my favourite among the lot. Hassle free with no eggs but over whelming.. out of the way.. drop dead delicious.. Over loaded with chocolate too. What more do you need in a good dessert?  In general this fool proof recipe is almost impossible to make an inedible batch of brownies. How ever made, they are lip smacking good.  I could get these brownies done blind folded and still it will taste divine. Make them once and you will immediately want to add them to your list of tried and – true stand by's. These modern day sweet assassin marvels are super simple to make. when chocolate is the answer who cares about the question ..
| Ingredients | Quantity |
| --- | --- |
| Sugar | 3/4 cup |
| Vegetable oil | 1/4 cup ( I used sunflower oil ) |
| Milk | 1 cup |
| Vanilla essence | 1 teaspoon |
| Lemon juice | 2 tablespoons |
| Flour | 1 and 1/4 cups |
| Cocoa powder | 4 tablespoons |
| Baking powder | 1/2 teaspoon |
| Baking soda | 1/2 teaspoon |
| Salt | 1/2 teaspoon |
| White chocolate chips | 1/3 cup |
| Brown Chocolate chips | 1/3 cup |
| Butter | to grease the microwave pan |
Method
Measure the sugar and powder to fine. Mix powdered sugar, vegetable oil, milk, vanilla essence and lemon juice until the sugar dissolves and blends well with an electric egg beater.
Add flour and cocoa powder. Mix well. Then top with baking powder, baking soda and salt. Mix well.
Grease the microwave safe pan with butter. Add both the chocolate chips keeping aside 2 tablespoons each to drizzle on top finally. Mix well with the brownie batter.
Pour into the greased pan and microwave for five to six minutes. Remove and cool completely. Cut into equal squares and serve. Can store in air tight containers at room temperature for two days.
Notes
Each microwave the time differs so check after five minutes and microwave further if needed checking every 30 seconds once.
My microwave took 6 minutes.