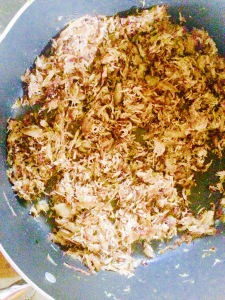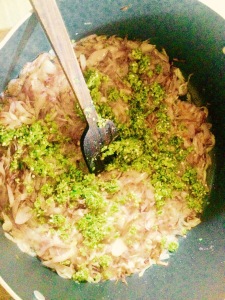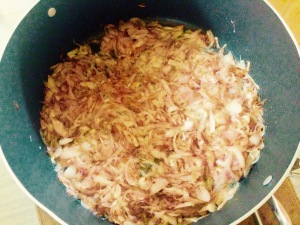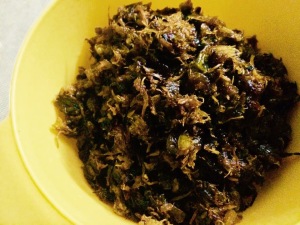 Preparation time : 15 minutes
Cooking time       : 35-40 minutes
Serves                  : 8 members
Description
Kutha… I know the word sounds wired as in Hindi it means dog. I felt the same way when I first got to know about this dish too. A recipe with few ingredients but time consuming one with Divine results. The technique of caramelizing the onions and the meat in low  heat did let me learn the art of slow cooking. The surprise element being the tenderness of the meat as its slow cooked . No idea from where my mother- in- law learnt this dish as I have never seen this dish on the table else where at any other relative's place. The colour of the dish might put you off as its in a very dark shade of brown but the taste sure will let you feel soothed with its sweet element popping in from the onions along with the caramelized flavour. This is served as a side dish for ghee rice (nei choru) but it goes well as a side for any thing and every thing possible. At times when I have left overs, I use it as a stuffing for any savoury snack too.
| Ingredients | Quantity |
| --- | --- |
| Bone less mutton | 1/2 kg |
| Big onions | 1 kg sliced |
| Green chillies | 20 ground coarsely |
| Coconut oil | 1/4 cup |
Method
Pressure cook the cleaned meat to done. Reduce the water to dry. Cool completely and shred the meat by pulsing in a food processor to get threads of meat.
Heat the coconut oil in a non-stick wide pan. add the sliced onions. Sauté to caramelise for 20 minutes in medium heat. Add salt to taste and green chillies. Mix well and sauté for another five minutes.
Add the shredded meat and sauté for 15 minutes to brown in very low heat. Remove from heat and serve hot as a lip snaking side dish.
Notes
This is a slow cooked dish, so you have to be patient while cooking.
I start cooking with this dish and remove it from heat only when I am done with the rest of cooking.
Always use a non-stick pan as it helps not to get burnt and in very low heat as well.