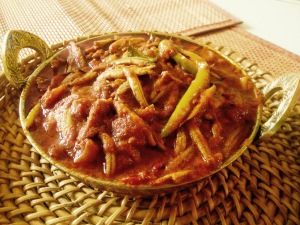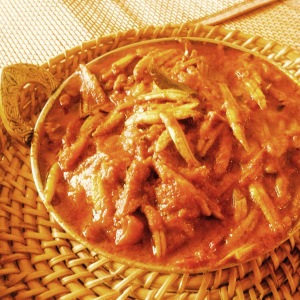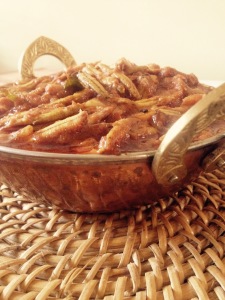 Preparation time : 30 minutes
Cooking time      : 20 minutes
Serves                : 6 members
Description
Authentic home curries that our grand mothers and mothers cook always bring in a spark of nostalgic joy to all of us . Like wise this fish curry is also one such that my mother – in – law learnt from her mother . I am not a big fan of the iyra fish but my mother and hubby dear go head over heels over this fish curry . This dish works wonders to melt both of them . My cliche way to get to their hearts through their stomachs . Food always has its surprising element of bringing along memories , family togetherness , emotional attachment … I can go on and on and that's why I am deeply madly in love with food and cooking . Coming to the dish , it's spicy and thick in consistency . Best served with white boiled rice or steaming hot soft idlis . I always make fun of hubby dear , saying you ate thousand's of fish today .. The iyra fish is so tiny and a hand full might be around 40 to 50 fishes . See , yet again a hilarious naughty moment created by this dish that always brings a smile on my face . Clearly say's that I am in a relationship with food ❤️❤️ .
Ingredients to be ground to a smooth paste
| Ingredients | Quantity |
| --- | --- |
| Coriander powder | 3 tablespoons full |
| Red chilli powder | 2 1/2 tablespoons full |
| Turmeric powder | 1/4 teaspoon |
| Cumin powder | 1 teaspoon |
| Coconut | 1/2 cup |
Grind all the above mentioned ingredients together to get a smooth masala paste
Grind coconut separately to a smooth paste
Other ingredients
Ingredients

Quantity

Cleaned iyra fish /
Spined loaches
1/2 kg
Small onions
1 1/4 hands + 6-7 to temper chopped into two
Tomatoes
2 medium sized chopped ( my mother- in - law just squeezes the whole tomatoes into the tamarin water )
Green chillies
2-4 slit
Tamarind
lemon size ball , soaked in 1 cups of water and pulp squeezed and strained
Salt
to taste
Sesame oil ( gingely oil /nalla ennai )
1/4 cup
Fenugreek seeds
1 teaspoon
Cumin seeds
1 teaspoon
Curry leaves
1 strand
Method
Rub the tiny iyra fish over a stone surface ( at home it's done over the cloths washing stone ) with rock salt to remove the slipperiness it has. Rinse in water.
Repeat the same three times. Then add the iyra fish over a cup of milk and keep aside until needed to be used.
Mix tamarin pulp water, ground masala paste, salt to taste, chopped small onions 6-7, tomatoes and green chillies together. Add 2 cups of water and mix well. Taste and adjust.
Heat sesame oil in a heavy bottomed board vessel. Add fenugreek seeds, cumin seeds, chopped onions and curry leaves. Once the fenugreek seeds crackle And small onions are brown and crisp, Pour the tamarind masala water base.
Cover and Bring to boil. Once the raw smell has gone and the green chillies are boiled and changes its colour. Rinse the iyra fish in water and add to the curry. Cook on medium heat for one minutes by just rotating the vessel once in a while making sure the gravy coats and covers all the fish in the curry. ( do not use a spatula to toss or mix the fish into the curry as the fish pieces might break ).
Dilute the coconut paste with little water. Pour into the curry and mix well. Lower the flame and cook further for another one minutes until oil separates and floats on top. The curry must be of thick consistency. Remove from heat and serve hot with white boiled rice or iddli.