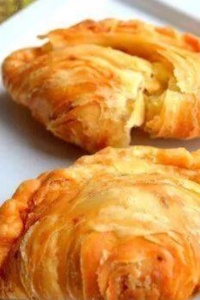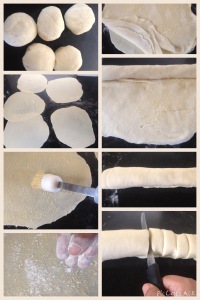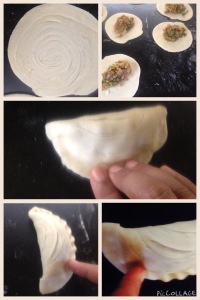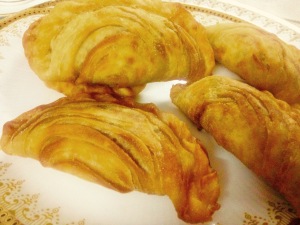 Preparation Time   : 1 hour
Cooking Time        : 35 minutes
Serving                  : 8 members
Recipe source       : Pavithra elangovan
Description
There are a few dishes that I don't cook but have particular individual's cook it when ever they drop by to visit me . Like wise, my nanny cum cook from moms place fathima used to make  samsa's ( that's how she pronoun's it- samosa ) that were rustic looking,Devine in taste and high in calorie's and my comforting childhood favourite.This snack is usually made as an offering in huge amounts (
500 -1000
 pieces) during the holy month of Ramadan in mosques by people willing to distribute to those fasting.fathima makes this snack every year with her sister and mother and does so. This has actually made her an expert in this dish. When ever she makes this at home, I just keep taking note of the procedure but never attempted to give a try. I came across a similar recipe in a fellow foodie blogger pavitra elangovan's blog with a more posh look but a sweet snack. I followed her recipe to the core with no changes but just opted for a savoury non vegetarian filling. Quite a pains taking job but worth the work when you have a bite into this indulgent snack. The layers of distinct crumbliness and the twisted pattern used to seal the edges together add so much glamour to the snack. It's always a challenge with food to get both taste and texture right. For an extra touch of indulgence  gear up to spoil all your loved ones with these tempting treats. I assure you they will earn you loads of brownie points.
Ingredients for the Layered cover
| Ingredients | Quantity |
| --- | --- |
| Flour | 1/2 cup |
| Rice flour | 1 teaspoon |
| Salt | a pinch |
| Oil | to deep fry |
Method for the layered covering
Mix all the ingredients together mentioned above for the layered covering. Add little water and knead to a dough that is slightly stiffer than a chapathi dough. Keep aside covered for fifteen minutes.
Ingredients for Filling
| Ingredients | Quantity |
| --- | --- |
| Boneless chicken | 1/4 kg |
| Ginger garlic paste | 1/4 teaspoon each |
| Salt | to taste |
| Turmeric powder | 1/4 teaspoon |
| Onions | 5 big chopped |
| Green chillies | 4 chopped |
| Mixed vegetables - carrots , beans , cabbage , green peas chopped and boiled in water with salt | 1 cup |
| Garam masala powder | 1/4 teaspoon |
| Mint leaves | few |
| Coriander leaves | one hand chopped |
| Pepper powder | to taste |
| Oil | 2 tablespoons |
Method for chicken filling
Pressure cook cleaned chicken , salt , turmeric powder, ginger garlic paste and little water for one whistle.
Bring to boil and Reduce the water. Cool completely and shred the chicken to treads ( I run it in the food processor for a second ).
Heat oil in a non stick board pan. Add onions and fry to translucent.
Add green chilies, boiled chopped mixed vegetables, shredded chicken, mint leaves, coriander leaves, salt, garam masala powder and pepper to taste.
Mix well and lower the flame and keep stirring for 3 minutes letting all the flavours infuse together. Remove from heat, cool and set aside.
Other ingredients to brush in between each layer of disc
| ingredients | Quantity |
| --- | --- |
| Ghee / oil | 1/2 teaspoon for each layer |
| Rice flour | 1 teaspoon for each layer |
How to proceed
Divide the dough into equal five lemon size balls. Roll each ball into 8 1/2  to 9 inch equal circles. Brush 1/2 teaspoon ghee on one side of the first rolled round disc.
Sprinkle one teaspoon rice flour on top of the brushed ghee. Slightly rub it all over.Place another rolled disc on top and do the same with ghee and rice flour.
Stack all the five rolled discs with applying ghee and sprinkling rice flour in between each disc. Once they are stacked up , using a rolling pin,slightly roll with little pressure to get even circles.
Make sure not to give too much pressure. Starting from one end make a tight roll.Cut the tight roll into 10-11 equal one inch thick slices.Dust rice flour on one slice, with out using much pressure roll with a rolling pin to 3- 3 1/2 inch disc.
Fill with 1 1/4 teaspoon of cooled filling in the centre. Apply water around the edges. Close to get a semi circle.starting from the left corner,pinch the edges together.
Make a swirl inwards towards right angle. Do the same until you reach the other edge to get a twisted pattern on the edges and sealing the filling.
Do the same to all the slices and filling. Heat oil to deep fry.Deep fry in low medium heat until both sides are golden brown in batches of 3 to 4 at a time.
Drain over absorbent paper. Serve hot as it is with no dips .
Notes
Place the tightly rolled log in the refrigerator for ten minutes and then cut into discs.
Doing so the ghee and roll dough get a bit firm making it easy for us to work.
Place the cut discs also in the refrigerator for five minutes and then roll,so the layered stay intact when rolling and filling.
You can use flour to sprinkle in between each rolled disc but rice flour gives a crispy cover.
The same can be done with a sweet filling with fried grated coconut , fried cashew nuts + raisins , poppy seeds.Cool and add sugar to taste with cardamom powder.
You can make a mince meat filling substituting the chicken in the recipe.