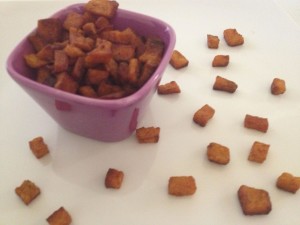 Preparation Time : 30 minutes
Cooking Time : 15 -20 minutes
Serving : 4 members
Description
Chena kilazngu varuthathu.A simple yet yum vegetarian authentic dish very own to the ravuthar community people of palghat , Coimbatore region.This dish is present on our table every alternative day for lunch. At times when there is a 2 days break continuously , all of us together ask why there is no Chenakilazngu varuthathu on the table . The mighty yam cubes are boiled with some masala first and then roasted in coconut oil in medium heat resulting in a crisp coating with a smooth inside. I can never stop eating this until its all over. My hubby and kids don't fancy this dish so i get to have it only when i am at moms place. Every house in Palghat has a vegetable garden were they have yam, kappa (maravalli kilazngu)coconut trees, mango trees, plantains,jack fruits and many other vegetables and fruits grown in their backyard known as thodi.It used to be fun climbing on those trees and doing all the naughty stuff back in the thodi of my grandmas place in Palghat.In remembrance to that i have a thodi at home with drumsticks, chickoo , custard apples , gooseberries and other easily grown plants in Tamilnadu.
Ingredients
| Ingredients | Quantity |
| --- | --- |
| Yam | 2 cups peeled and cut into small cubes |
| Chilli powder | 1 teaspoon |
| Turmeric powder | 1/4 teaspoon |
| Coriander powder | 1/4 teaspoon |
| Salt | to taste |
| Cumin powder | 1/4 teaspoon |
| Pepper powder | 1/4 teaspoon |
| Coconut oil | 3tablespoons to shallow fry + 1 teaspoon to cook along |
Method
Pressure cook all the ingredients together except for 3 tablespoons of coconut oil for one whistle with a little water .
Heat the remaining 3 tablespoons of coconut oil in a non stick pan and fry the cooked yam cubes in two batches in medium heat slowly making sure they retain their cube shape with out getting mushed up .
It should have a crisp cover with a soft inside .
Remove and serve hot as a side dish for boiled white rice or kanji .