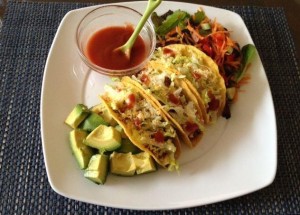 Preparation Time : 20 minutes
Cooking Time : 30 minutes
Serving : 6 members
Description
Recipe posted by noorie meeran for the competition. Her description follows . Taco is a traditional mexican dish which is made with ground meat filled inside crispy tortilla shells. The filling could be chicken ,fish or vegetables. I made the ground mutton version. Similarly you can use hard shell tacos (like chips)or soft tortillas (like chapathis) for this dish. The crispy tortillas and the spicy filling with salsa and cheese make it a yummy dish, kinda reminds you of street foods in india.
Ingredients
| Ingredients | Quantity |
| --- | --- |
| Ground Mutton (Keema) | 1/2 kg |
| Onion | 1 Big Chopped |
| Tomato | 1 big / 2 small Chopped |
| Coriander leaves | handful chopped |
| Ginger-Garlic Paste | 1and 1/2 teaspoon |
| Chilly Powder | 1 teaspoon |
| Cumin Powder | 1 teaspoon |
| Salt | 3/4 tsp (don't add too much salt because the tacos has salt and the salsa has salt) |
| Ground Pepper Powder | 1/2 teaspoon |
| Tomato Paste | 3 teblespoon |
| water | 1 cup |
| Taco Shells | as needed |
| Shredded Lettuce | as needed |
| Grated Cheddar Cheese | as needed |
| Salsa | as needed |
| Canola Oil | as needed |
Method
In a pan, add enough oil to sauté onions. Sauté them until they are soft.Add Ginger Garlic paste and fry them well to get rid of raw smell
Now add the chopped tomatoes and coriander leaves.Add all the spices powder and stir well to get rid of raw smell
Add tomato paste and sauté well.Add the ground meat and mix so that all the spices are combined well with the meat.
Add 1 cup water and cover the pan with a lid and cook on medium heat till the meat is well cooked. Roughly about 20-25 mins
Open the lid of the pan and make sure the dish is not watery. The meat should not get too dry but not gravy also. It should be in a consistency where you can scoop for a filling.
In a oven at 200 deg C, toast the taco shells for 2 minutes. Keep an eye because the taco shells will get burned quickly.
How to Serve
Scoop few table spoons of meat mixture and fill inside the taco shell. Then add a layer to salsa on top. Then top it with shredded lettuce and sprinkle grated cheese.
To make it spicy, you can add pickled jalapeno peppers on top.