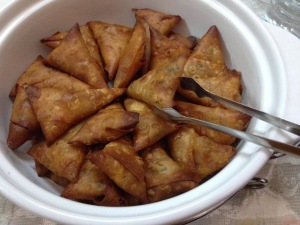 Preparation Time : 20 minutes
Cooking Time : 8 minutes
Serving : 5 – 6 members
Description
Irani samosa . A dish which lalitha Varatharajan had got along with her self for the recipe swap get together for the first anniversary of sauté , fry n bake celebration . A vegetarian delight , so simple to make and high in taste . I had to allow plenty of stomach room for experimentation that day and just had a bite of each dish to taste but could not stop with a bite on these Irani samosas … Ended up gobbling one . At times savoury treats are a refreshing alternative to sweet ones.the samosas got the sweetness of the poha , the crunchiness of the onions and a subtle citrus tang from the lime juice . This dish won the second prize in the recipe swap event .more than it being remembered for its taste … And second prize .. it sure will be remembered for the enthusiasm and high sprits  lalitha had that day . We ladies just freaked out and were our true own selves that day . Well .. Lalitha and myself are gym mates , that's where I got to meet her first . Now we are very close friends for another main reason being , her elder two sons are studying in good shepherd international school , Ooty were I did my schooling :-)) . She did get me a glass pie dish as a surprise gift for crossing the 2000 likes in  sauté , fry n bake and our bonding is getting stronger and stronger day by day :-))
 Ingredients Name
| Ingredients | Quantity |
| --- | --- |
| spring roll sheets | as need |
| onlions chopped | 1 cup |
| pressed rice or poha | 1 cup |
| chat masala | 1/2 ( half teaspoon) |
| chilli powder | 1/2 teaspoon |
| coriander leaves | 1 banch chopped |
| cumin powder | 1/2 teaspoon |
| lemon juice | 1 teaspoon |
| green chilly | 3 number chopped |
| oil | to deep fry |
| salt | as need |
Method
Take a bowl add chopped onions and the same quantity of poha along with chilli powder,cumin powder,chat masala,coriander leaves,green chilly and mix well.
In a small bowl add 1tsp of Maida mix with some water and make a paste, keep a side.
Now take one springroll sheet and make a cone,put onion and poha mixture inside this cone,
Apply littlebit Maida mixture and paste it.In a pan add oil to deep fryFirst half fry the samosas,and remove , then after 5 minutes fry again till golden colour.
Fry it in medium flame not hot oil. Do not fry in hot oil.
Note
We add same amount of poha equal to onions .This helps to absorb the moister in the chopped onions .This is very famous in HYDERABAD.