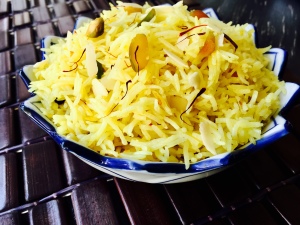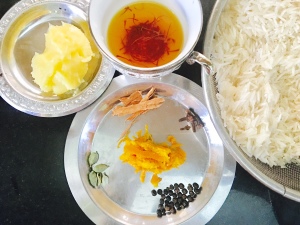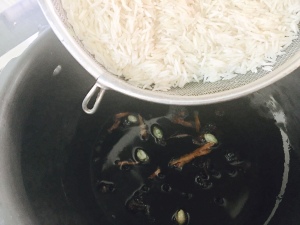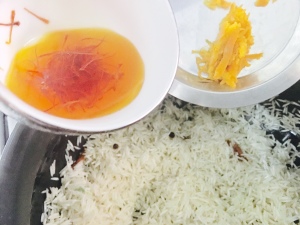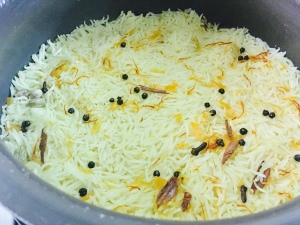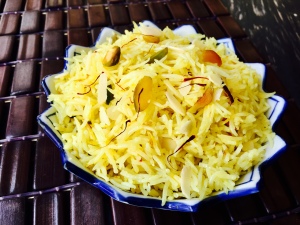 Preparation time   : 30 minutes
Cooking time        : 30 minutes
Serves                  : 4 members
Description
The word saffron immediately takes me to Kashmir and it's saffron fields Pampur is a small town, which is 13 km from Srinagar was where I got to see the saffron fields.  The saffron plant is very small and its flower is the only part which is seen above the ground. The blooming time of this flower is autumn. As I visited during summer, it was just the plant with no blooms. Saffron has a unique sweet smell. Saffron flowers bloom for about three weeks from mid-October to the first days of November. To see them during the day is nice. But seeing (and smelling) them on a moonlight October night is an experience even emperors notably 'Jehangir', the Mughal would crave for as told to us by our guide. The saffron from Kashmir are of the best quality that I have ever used. Wanting to make a dish that is fragrant with the scent of saffron alone, I tried the saffron pulao which was absolutely what I had visualised. The aroma waffled our home and lined our tummies with divinity. Spread the joy at your homes too with this awesome mildly flavoured pulao.
Ingredients
| Ingredients | Quantity |
| --- | --- |
| Basmathi rice | 2 and 1/2 cup |
| Saffron | 1 teaspoon |
| Ghee | 2 tablespoons |
| Cardamom | 4 |
| Cinnamon | 2 inch piece one |
| Cloves | 4 |
| Pepper corns | 10 |
| Curd | 1 tablespoon |
| Water | 4 cups |
| Lemon peel | 1 teaspoon grated |
| Pistachios | 1 tablespoon chopped |
| Almonds | 1 tablespoon skin peeled and chopped |
| Salt | to taste |
Method
Soak the saffron in 2 tablespoons of hot water.
Heat ghee in a pressure cooker. Crackle the cinnamon, clove, cardamom and pepper corns. Top with basmati rice and sauté for minutes. Add 4 cups of water. Mix well.
Add salt to taste, curd, lemon zest and soaked saffron and bring to boil. Close the pressure cooker lid and cook further for one whistle.
Heat ghee and sauté the almonds and pistachios to golden. Sprinkle over the pulao with a few saffron strands. Serve hot.