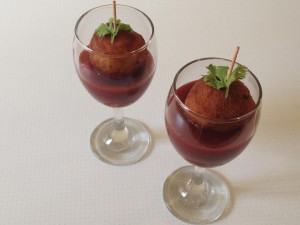 Preparation Time : 40 minutes

Cooking Time : 15 minutes

Serving : 8 members
Description
Bread Bonda. A tea time brunch that my mom used to make when i was a kid . Very rarely did mom get into the kitchen to cook as she was so busy helping dad with his business. I use to love seeing my mom cook and being in the kitchen. Though mom is not a great cook. The little she cooks is jaw dropping.My son till date tells that my mom is the worlds best cook.I am still struggling to win my boys heart through his tummy. My parents were here at my place for a day, last week. They got to see my cooking competition pictures only then.The pride my mom had in her seeing those pictures and showing it to dad. That one moment i was filled with utter joy as my mom was not at all happy about me starting sauté ,fry n bake. She kept complaining saying its not going to do any good to you, stop wasting your time. Recently at a cousins wedding had so many friends,relatives and others who had liked sauté,fry n bake talk to me about my page.All along having my mom beside me. Happy i proved her wrong and made my parents feel proud about me . The joy of connecting with all you people through food which I am passionate about is ultimate .
Ingredients for filling
| Ingredients | Quantity |
| --- | --- |
| Mixed vegetables | 1 1/2 cup chopped ( cabbage , carrots , capsicum , green peas , beans , cauliflower ) |
| Chicken or mutton mince | 200 grams ( vegetarians can substitute with paneer or soya chunks ) |
| Oil | 1 tablespoon |
| Onion | 1 big chopped |
| Green chillies | 2 chopped |
| Coriander leaves | chopped few |
| Salt | to taste |
| Ginger garlic paste | 1/2 teaspoon each |
| Pepper | to taste |
| Chilli flakes | to taste |
| Turmeric powder | a pinch |
| Lime | a squeeze |
Other Ingredients
| Ingredients | Quantity |
| --- | --- |
| Bread | 12 slices crusts cut |
| Water | 2 cups |
| Salt | to taste |
| Bread crumbs | 2 cups |
| Oil | to deep fry |
Method for filling
Mix chicken or mutton mince with turmeric powder , ginger garlic paste , salt to taste and very little water and pressure cook until cooked through .
Boil till all the moisture has evaporated and the meat is dry . Heat oil and fry onions and green chillies to translucent .
Top with chopped mixed vegetables and sauté till vegetables are half cooked , stirring constantly .
Add the cooked minced meat , seasoning with pepper , chilli flakes , lime juice and salt to taste . Toss and mix well . Garnish with coriander leaves .
Set aside and cool completely .
How to Proceed
Mix salt to taste with2 cups of water . Take a slice of bread , dip into the salted water and squeeze between your palms to get a flat wet base .
Place a heaped tablespoon of filling in the Center . Bring all the four corners together and shape into a ball . Roll the balls in breadcrumbs evenly all around .
Do the same with all the bread slices and filling . Keep in the refrigerator till needed . ( I follow the recipe till this stage in advance and proceed only when required ) Heat oil to deep fry . Deep fry the bread bondas to golden brown in colour .
Drain and serve hot with tomato sauce.