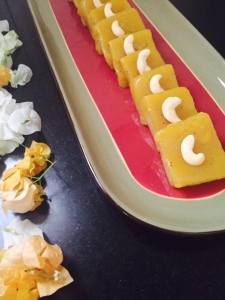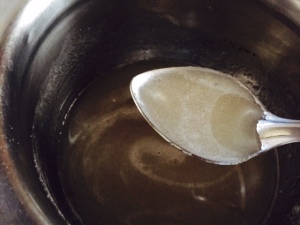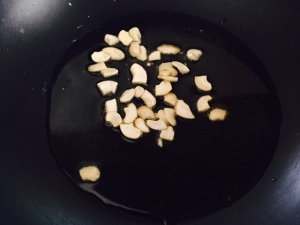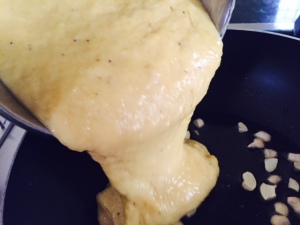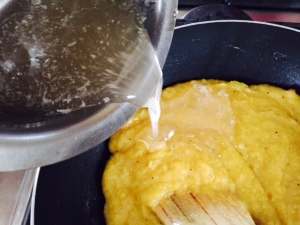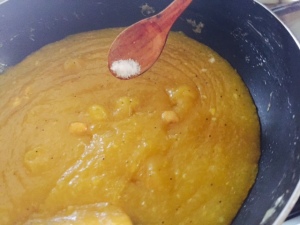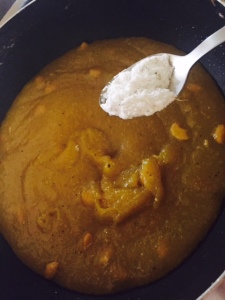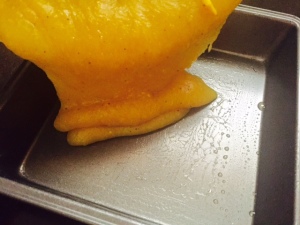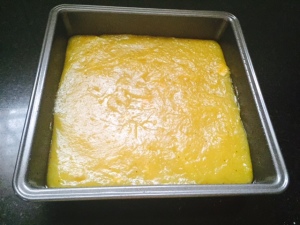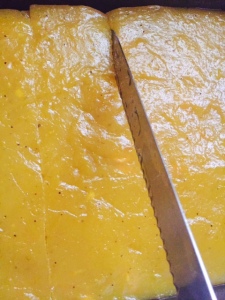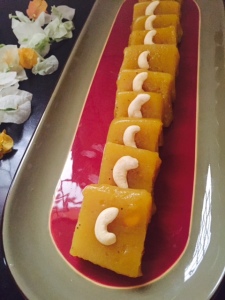 Preparation time  : 20 minutes
Cooking time       : 18 minutes
Serves                 : 8 members
Description
My parental uncle drops in at home after years with loads ( sacks actually ) of fresh local produce as gifts from my native place palakkad. I did share it with near and dear ones. I literally fell in love with Kerala banana's that he got. Just cut out from the tree. I love the sweet and sour flavour of plantains and made sure to keep the entire lot for myself. Crazy, greedy me. I did make maximum use of the plantains in all means I knew to put them to use. The last few remaining were turning dark skinned and begging me to use them soon. Now it was time for me to try a completely new dish. Came up with a halwa idea as I have never ever tried making halwa before. Started with a recipe instantly that I thought would work and made it. From the colour, texture,flavor and gloss it had was pitch perfect. No kids at home, so hubby dear and myself tasted by sharing one piece, shared a few with my in – laws and packed the rest for my friends. It was a super hit every where. Nothing to me is more soothing than to see my near and dear ones relish the food I cooked with love. Their umm's ahh's are unbeatable..
Kerala plantain halwa
Ingredients
Ingredients



Quantity

Kerala plantain
5
Sugar
1 cup
Water
1/2 cup
Ghee
5 teaspoon
cashew nuts
2 tablespoons
chopped + 2 teaspoons whole to decorate
Salt
a pinch
Cardamom powder
1 teaspoon
Method
Boil sugar and water together for two minutes until sugar dissolves. Remove scums and dirt from the top. Remove from heat and set aside.
Grind the Kerala plantains to a smooth paste.
Heat ghee in a non stick pan. Add the chopped cashew nuts and fry to golden in Colour. Top with the ground Kerala plantain paste. Stir until cooked well and leaves the sides. Keep stirring and make sure it does not get burnt at the bottom.
Add the sugar syrup and mix well to the Kerala plantain mixture. Keep stirring until mixed well. Add salt and cardamom powder. Cook further, stirring through out until the halwa leaves the sides and gets to a halwa consistency.
Pour the halwa over a greased platter with high sides. Flatten the top to get equally shaped halwa pieces. Leave to set for 20 minutes at room temperature. Once set, cut into squares with a greased sharpe knife. Decorate with whole cashew nuts and serve.