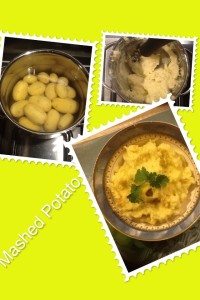 Preparation Time : 10 minutes
Cooking Time : 25 minutes
Serving : 4 members
Description
Mashed potatoes. A recipe e-mailed to me by my friend Meera aboo thambys son athik Thamby. He is in college and helps his mom in the kitchen at times. This mash was made by him completely. How i wish all sons were like athik to help their moms in the kitchen. My son afzar loves food and a little bit of cooking too. He makes maggi noodles and makes dosas at times. But all this happens very rarely. My children booed me saying my blog is filled with their stories, likes and dislikes. My life revolves around them and my mind is stuck to them. most of all i am their mother. Aren't we mothers so self centred with our children and family.
Ingredients
| Ingredients | Quantity |
| --- | --- |
| potatoes | 800 grams |
| butter chopped | 40 grams |
| hot milk | 1/3 cup + extra butter, to serve |
| Salt | to taste |
| Pepper | to taste |
Method
Peel potatoes and cut into large pieces . Cook in a large saucepan of boiling salted water for 20 minutes or until very tender but not falling apart.
Drain potatoes well. Return to saucepan over low heat. Shake pan gently until any remaining water evaporates. Using a potato masher, roughly mash potatoes.
Add butter and hot milk to potatoes. Beat with a wooden spoon until fluffy. Season with salt and pepper. Serve topped with extra butter and salt and pepper.