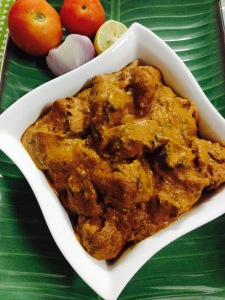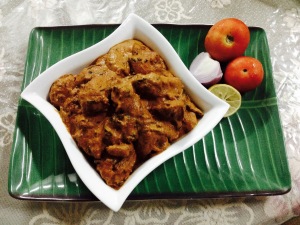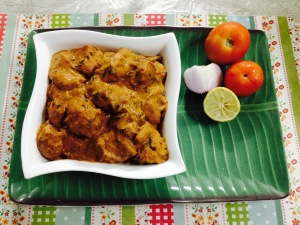 Preparation time  :  25 minutes + 4 hours marination
Cooking time       :  15-20 minutes
Serves                 :  6 members
Description
Social media. Now what about it ? The main reason for me to get in touch with my long lost relatives, friends and Unkown new social media friends too. The last "new social media friends" list is getting bigger day by day and Ayesha Nazreen is one such friend of mine. My sister-in-law wahitha was surprised on her trip to the USA when Ayesha enquired about me there. From then we have come a long way chatting, exchanging messages, recipes though not met in person yet. This recipe was one such that she passed over when I had fresh fenugreek grown in the back yard at home. The gravy was velvety oozing with North Indian flavors and the tang of curd used sure did justice to balance the dish well. I am waiting for my next try as here it's very rare to get fresh fenugreek leaves. So I guess I have to grow them and give a try the old school way which makes it even the more glamorous. This recipe is for sure keeps as it adds oomph to your table. I realized how this dish makes me think of Nazreen when ever this dish pops up in mind. Then I was like.. Hey so this must be the very same thing, all those who cook or read your recipes must be going through too. Happy me as we all loved to be remembered and thought of for sure no matter what for good deeds.
Ingredients for the marinate
| Ingredients | Quantity |
| --- | --- |
| Boneless chicken | 1 kg |
| Red chilli powder | 3 teaspoons |
| Ginger and garlic paste | 1 teaspoon |
| Coriander powder | 2 teaspoons |
| Cumin powder | 1 teaspoon |
| Garam masala powder | 1/2 teaspoon |
| Mint leaves | 2 teaspoons |
| Salt | to taste |
Ingredients to sauté and grind
| Ingredients | Quantity |
| --- | --- |
| Onion | 2 big chopped |
| Tomatoes | 3 big chopped |
| Ginger and garlic paste | 1 teaspoon |
| Fresh fenugreek leaves | 1 cup full ( 1/2 bunch ) |
| Coriander leaves | 1/4 cup |
| Red chilli powder | 1 teaspoon |
| Coriander powder | 2 teaspoon |
| Pepper powder | 1/4 teaspoon |
| Salt | to taste |
| Curd | 1/4 cup |
| Oil | 2 tablespoons |
| Orange red Food colour | a pinch ( optional) |
Other ingredients
| Ingredients | Quantity |
| --- | --- |
| Oil | 1 tablespoon |
| Heavy cream | 1/4 cup |
Method
Grind all the ingredients together mentioned under to marinate except for boneless chicken.
Marinate the boneless chicken in the ground paste for 3 to 4 hours .
In a kadai heat oil, add roughy chopped onions and sauté until translucent. Top with ginger and garlic paste,sauté for 5-7 mins to crisp. Add roughy chopped tomato.
When the tomato becomes mushy add 1/2 bunch of fenugreek leaves, coriander leaves , red chili powder, pepper powder, coriander powder, salt to taste, curd and red food colour.
Sauté well until oil floats on top. Remove from heat and cool completely. Blend to a smooth paste.
Preheat an oven to 180 degrees Celsius. Grill the marinated chicken for 10 minutes over a greased baking tray.
Turn each chicken piece and grill further for another 5-8 minutes. Remove from grill and keep aside.
Heat 1 tablespoon oil, top with the ground masala paste. Mix well adding little water.
When it starts to boil add the grilled chicken and cook in low flame for 10 minutes until oil floats on top . Add heavy cream. Mix well.
Taste and adjust seasoning. Serve hot with any type of roti, chapathis or poori.