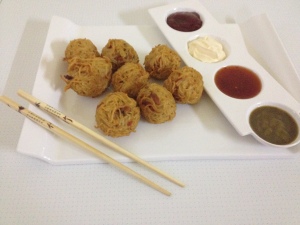 Preparation Time : 15 minutes
Cooking Time : 4-5 minutes for each batch deep fried
Serving : 4 members
Description
Every year during the holy month of Ramadan I make sure to come up with exciting bite – sized treats that are easy to make and high in taste . Ditching the regular deep fried treats once in a while  through out the holy month with fillings and names varying from the regular does work as a sure fire pleaser . Like wise , this was one such treat that I made to finish up the chicken + veggie filling I had made for samosas the previous day . The instant noodles cooked with its taste maker , mixed with this left over filling and spiked with other few ingredients . Then deep fried resulted in a soft , moist inside contrasting with the crispy crunchy outside . The joy in breaking down left overs and taking it to another level by mixing and matching to create new jaw dropping creations is delightful always . All you need to do to hide the left over's used in a dish is to lift the sinful  treat straight to the table confidently and serve with lots of love . That's my secret mantra and it works always :-)) .
Ingredients
| Ingredients | Quantity |
| --- | --- |
| Maggi noodles | 1 small packet cooked to packet directions and cooled completely |
| Boiled shredded boneless chicken with salt + pepper powder to taste | 1/4 cup |
| Boiled chopped vegetables | 1/4 cup ( mix of carrot , cabbage and beans ) |
| Red chilli flakes | to taste |
| Corn flour | 1 tablespoon |
| Maida / flour | 1 tablespoon |
| Ajinomoto | a pinch ( optional ) |
| Spring onion greens | 1 teaspoon chopped |
| Salt | to taste |
| Oil | to deep fry |
Method
Mix all ingredients together except for oil to deep fry . Roll into lemon size balls gently making sure not to mesh up the noodles .
Heat oil to deep fry . Once the oil is hot ,Drop in 4 noodle balls at a time and fry to a light golden colour and crisp .
Drain and serve hot with a choice of dips .
Notes
Vegetarians can avoid the chicken used for a veggie version or substitute with soya chunks or panner .
Can do the same with prawns as well .