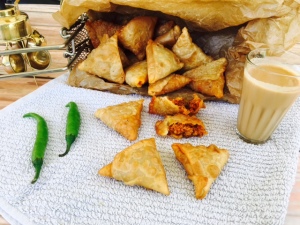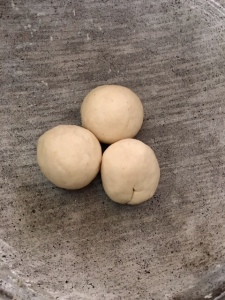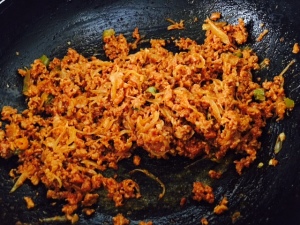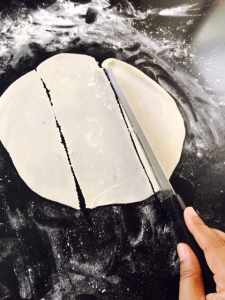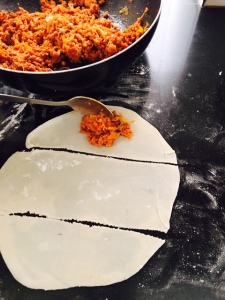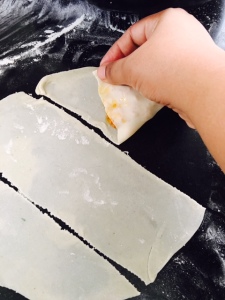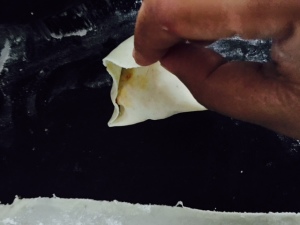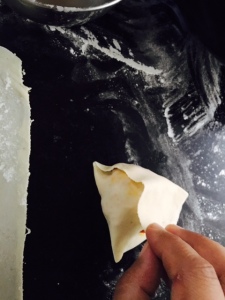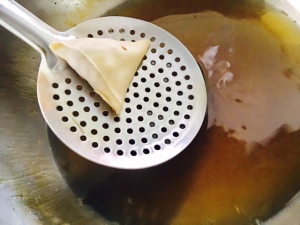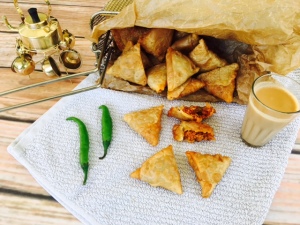 Preparation time     : 40 minutes
Cooking time          : 20 minutes
Serves                    : 6 members
Description
This Hyderabad version of the mince samosa made me raise my eyebrows when I first got to see it in made in a television show. From then it was added to my to try list and only recently did I take the efforts of fulfilling it. Made with cupboard friendly ingredients with just the folding of the samosas being a tedious job. All that hard work sure flies away when you bite into the lukme with the fatty mince in it. A must try snack that sure will be added to your regulars at home.
Ingredients for the lukme cover
| Ingredients | Quantity |
| --- | --- |
| Flour / maida | 1 cup |
| Wheat flour / atta | 1 tablespoon |
| Semolina | 3 tablespoons |
| Salt | to taste |
| Oil | 1 tablespoon |
| Water | little as required |
Method for lukme cover
Mix flour, wheat flour, semolina, salt to taste and oil together. Sprinkle water and knead to get a smooth and tight dough for ten minutes. Keep covered for 1/2 an hour.
After 30 minutes knead the dough once again for five minutes. Roll into equal lemon size balls.
Ingredients for the filling
| Ingredients | Quantity |
| --- | --- |
| Mutton mince | 1/4 kg |
| Onion | 1 chopped |
| Green chillies | 1 chopped |
| Ginger and garlic paste | 1/2 tablespoon |
| Red chilly powder | 1 teaspoon |
| Turmeric powder | 1/4 teaspoon |
| Lemon juice | 1 tablespoon |
Method for filling
Marinate mutton mince with red chilly powder, ginger and garlic paste, turmeric powder and salt to taste for 1/2 an hour. Pressure cook for one whistle with out water . Boil and reduce the water in the mutton mince to get a dry consistency mutton mince mixture.
Heat oil, add onion and green chillies. Sauté to golden. Add the cooked dry mutton mince and mix well to combine in low heat for five minutes. Remove from heat. Cool completely. Add the lemon juice. Mix well . Check seasoning and keep aside.
Other ingredients
| Ingredients | Quantity |
| --- | --- |
| Oil | to deep fry |
| Flour | to dust |
How to proceed
Roll out the lemon size balls to a big circle. Cut the circle with the help of a sharp knife into equal three portions.
Place one tablespoon full of mutton mince on to one cut portion in the middle. Bring both sides of the cut dough towards the centre over lapping the mutton mince to get a triangle shape. Wet the edges with water and stick together keeping the filing inside intact.
Do the same to all the dough and mutton mince.
Heat oil to deep fry. Drop the lukme in batches and deep fry to golden and crisp. Drain and serve hot with curd, coriander chutney and tomato sauce.