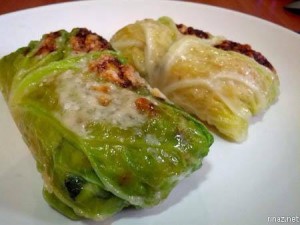 Preparation Time : 30 minutes
Cooking Time : 20 -25 minutes
Serving : 10 -12 members
Description
I have been getting requests pouring in asking for healthy recipes that are not deep fried to be had while breaking the fact for the on going month of Ramadan. Here is one try of mine. Please bear with the picture, as it was taken in a hurry. Happy healthy cooking folks.
Ingredients
| Ingredients | Quantity |
| --- | --- |
| cabbage leaves | 12 large |
| olive oil | 6 tablespoons |
| vegetable broth or maggi cube stock | 1 litre |
| Grated cheese | your preferred type |
| Balsamic vinegar | to taste |
| Rice | your preferred choice for making risotto |
| celery | 1 stalk |
| carrot | 1 |
| red onion | 1 small |
| Salt and pepper | to taste |
Method
Carefully peel off 12 layers of leaves. Rinse and clean them and remove the hard stem.
Fill a large saucepan with water and salt and bring it to a boil. Then dip each cabbage leaf into the boiling water for about 1 – 2 minutes to soften them.
Chop some celery, carrot and onion finely.
Heat olive oil into a pan and fry the onions , carrots and celery .Add in about 300g of rice (any preferred brand for making risotto).
Add in 1 litre of vegetable broth or stock from cubes and a dash of balsamic vinegar. When the rice is almost cooked, add in some chopped cheese (you can use any preferred cheese or omit this ingredient). Season with salt and pepper .
Place 2 spoonful of risotto rice mixture and wrap it snugly. Fold the sides and roll tightly .
Place 12 cabbage rolls in a baking tray, lined with a ladle-full of vegetable broth. Brush some melted butter or oil on top of each cabbage roll
Sprinkle some grated cheese and bake them in preheated oven at 200 degrees for about 15 minutes. Serve hot .
Note
Can substitute with any vegetarian or non vegetarian filling of your choice .
Cheese can be substituted with paneer ( cottage cheese )