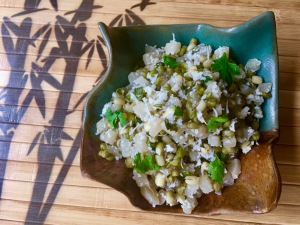 Preparation time : 20 minutes
Cooking time : 8 minutes
Serves : 2 members
Description
I always have this myth of using only English vegetable's for a salad recipe. I was put to shame when I was served a banana stem salad at a naturopathic clinic. I was like.. gosh why didn't you think of this before you dumb female. well, we learn more and more only through experience and experimenting. A lesson learnt for sure. I did taste it slowly making sure to take note of all the ingredients added to the salad. Back home gave it a try and it was exactly like what I had there. I made one change to the recipe of boiling the vegetable and sprout used which made the salad more tasty but sure with more calories.I had a clean empty bowl in the lunch table which is a good sign of approval from all at home.
Ingredients
| Ingredients | Quantity |
| --- | --- |
| Banana stem | 50 grams Chopped and boiled |
| Moong dal sprouts | 2 teaspoons boiled |
| Grated coconut | 3 teaspoons |
| Lime juice | 1 teaspoon |
| Cumin powder | a pinch |
| Chopped coriander leaves | 1/2 teaspoon |
| Salt | to taste |
Method
Mix all the ingredients together. Taste and adjust seasoning and Serve.