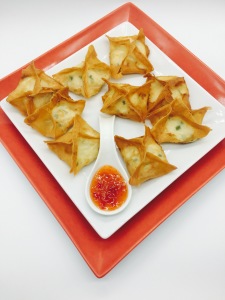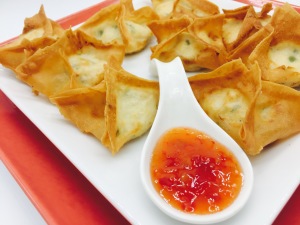 Preparation time  : 30 minutes
Cooking time       : 3 minutes for each batch deep fried
Serves                 : 8 members
Description
A fusion snack made by the American Chinese inspired by an authentic Burmese dish . It is some thing like a wanton crispy exterior with a cream cheese and crab filling moist inside. I really wanted to try this recipe looking at the flower shape it had but was so confused as to how it was made. I went through so many YouTube videos and finally got the hang of it. While making them, it was more easier than it seemed to be. An apt appetizer to impress guests and loved ones at home . It can be made ahead and refrigerated. Deep fry just before serving. crisp, moist and gooey all in one bite . Serve it with many dips of choice which makes it more interesting. These short eats are a cheats way to melt others. Food is the only source where you get to do so through their stomach with out touching them.
Ingredients 
| Ingredients | Quantity |
| --- | --- |
| Cooked crab flesh | 1 cup |
| Mayonnaise | 1/2 cup |
| Cream cheese | 1 cup |
| Onion stem | 3 stalks chopped |
| Egg | 1 beaten |
| Ready made spring roll strips | few |
| White pepper powder | 1/4 teaspoon |
| Salt | to taste |
| Oil | to deep fry |
Method
Mix cooked crab flesh, cream cheese, mayonnaise, salt, white pepper and onion stem together.
Beat the egg with one tablespoon of water and keep aside.
Cut the spring roll sheets into equal size squares.
Place one teaspoon of crab filling in the centre of each spring roll squar.
Apply beaten egg over the edges of the spring roll squares.
Bring the opposite corner's of the spring roll squares towards the centre making sure the spring roll has covered the crab filling.
Now press each adjacent side of the spring roll's together to get an square shaped tiny envelope that's sealed well.
Do the same to all the squares.
Heat oil to deep fry. Drop the rangoons in batches of six pieces at a time in medium heat.
Once golden brown, remove and serve hot with sweet chilli sauce.