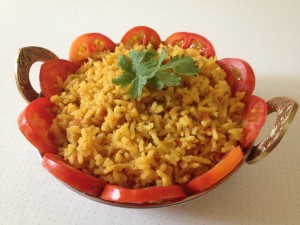 Preparation Time : 25 -30 minutes
Cooking Time : 30 minutes
Serving : 4 members
Description
Tomato biriyani , an authentic recipe that I learnt from my mother – in – law . My daughters favorite as it's a vegetarian dish that helps her with a lesser job of picking and cleaning the rice before eating not giving her much trouble like the biriyani . I have made one change from my mother – in – laws recipe of using blanched , peeled and pureeed tomatoes instead of chopped tomatoes as she does . I had to make the change as the previous chopped tomatoes used ended up in a lot of tomato skin in the rice were the picking and cleaning of the rice had to be done before eating . Pains taking but the out come totally justifies the effort put in . Using the tomato puree helps in getting a better red color as well . At home this dish is called as thakkali saadham , meaning tomato rice in Tamil but I feel it's more of a biriyani than just a saadham as we get to experience the magic of true Indian spices in an array of exotic and rare symphony of elegance . This tomato biriyani does taste very different from the traditional biriyani but in a good way that oozes with old world charm and sure to hit the right spot making sure your senses are soothed .
Ingredients
| Ingredients | Quantity |
| --- | --- |
| Basmati rice | 2 cup |
| Tomatoes | 1/4 kg Blanched , skin peeled and ground |
| Onions | 5 Sliced |
| Green chillies | 5 Slit |
| Cinnamon | 1 inch piece Powdered |
| Cloves | 2 Powdered |
| Ginger and garlic paste | 1 teaspoon each |
| Turmeric powder | 1/4 teaspoon |
| Red chilli powder | 1/2 teaspoon |
| Salt | to taste |
| Coconut paste | one hand ground |
| Ghee | 4 tablespoons |
| Water | 4 cups |
| Coriander leaves | 2 tablespoons (chopped) |
Method
Cut a cross in the bottom of each whole tomato making sure the other end is intact together . Drop the tomatoes into hot water and set aside for 5 minutes .
Remove from the hot water and cool , reserving the hot water that can be used to cook the rice . ( in case you are pressed for time drop the tomatoes into ice cold water ) peel the skin and blitz in a food processor to a purée .
Wash and soak basmati rice in water .Heat ghee in a pressure cooker .
Top with sliced onions and sauté for 5-6 minutes until onions are golden brown in colour . Add ginger and garlic paste diluted in little water and fry until raw smell has gone for about 4 minutes .
Add green chillies and tomato purée . Keep stirring occasionally until oil floats on top. Add turmeric powder , red chilli powder , salt to taste , powdered cinnamon and cloves . Mix well adding water .
Add coconut paste and mix well . Check seasoning and bring to boil . Drain the soaked basmati rice and add to the boiling water along with chopped coriander leaves .
Mix once gently making sure not to break the soaked basmati rice . Cover with lid and pressure cook for 2 whistles in high heat .
Wait for the whistle to subside , then open and serve hot with onion raitha , any spicy non – vegetarian or vegetarian gravy and paped .