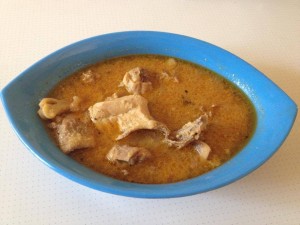 Preparation Time : 20 minutes
Cooking Time : 30 -40 minutes
Serving : 4 members
Description
Country chicken soup or nattu kozli soup as addressed at home . This dish is an authentic ravuthar dish of  Nellai and neighbouring  regions . A lightly flavoured runny watery consistency fresh and fragrant  soup but had with dosa or iddiappam ,  Seldom  drank as a soup . I often wonder how the name soup was given to this dish as its an English term . The same applies with places addressed here at Nellai  . We have the railway station area called JUNCTION , and the main bazaar area addressed as TOWN . The wired thing is that these two places have no Tamil names to them but addressed in their English forms . ( hey get back to the dish please … Oops ) this soup is served as a medicinal remedy when we have cold , to girls who attain puberty , boys who have under gone circumcision   and  women who have given birth . This soup is served with a thick dosa  or 2 iddiapams with 2-3 ladles of piping hot delicate soup poured over and left to soak  with a few pieces of fatty tender chicken . when you eat , it just slides through your trout to the stomach . Offering warmth with  a sense of well being to satisfy carvings of a family style familiar classic  soup .
Ingredients 
| Ingredients | Quantity |
| --- | --- |
| Cleaned country chicken | 1/2 kg |
| Small onions | 1 hand full chopped |
| Cinnamon | 1 inch piece |
| Cloves | 2 |
| Cardamom | 2 |
| Ghee | 4 tablespoons |
| Ginger and garlic paste | 1/4 teaspoon each |
| Salt | to taste |
| Tomato | 1 small chopped |
| Poppy seeds | 5 tablespoons |
| Fennel seeds | 1/4 teaspoon |
| Coriander powder | 1 teaspoon |
| Chilli powder | 1/4 teaspoon |
| Fennel powder | 1/4 teaspoon |
| Cumin powder | 1/2 teaspoon |
| Fresh black Pepper crushed | 1 teaspoon or to taste |
Method
Grind poppy seeds with fennel seeds to a smooth paste and set aside .
Heat ghee in a pressure cooker . Add cinnamon , cloves and cardamom .
Once they crackle add the small onion and fry to golden brown . Top with ginger and garlic paste . Fry to brown .
Add the cleaned chicken pieces and tomato .Sauté until the colour of the chicken has changed and the tomato lets out its juices .
Add the poppy fennel seed paste and sauté for a minute adding salt to taste .
Mix well and pour water just enough to cover the chicken ( about 6-8 cups of water ) and pressure cook for 4-5 whistles or until cooked through and the flesh falls a part from the bones .
( I usually pressure cook on high for one whistle and then on very low heat for 4 whistles . This way the chicken stays moist and soft ) . Add the coriander powder , chilli powder , fennel seeds powder , cumin powder and crushed black pepper powder .
Bring to boil mixing well . Taste and adjust and serve hot with kal dosai's (thick dosa's like uttappams ) .
Note
After cleaning the chicken .
Marinate the cleaned chicken in 1 tablespoon of vinegar and one teaspoon of turmeric powder for 5 minutes .
Then rinse the chicken again 2-3 times in water , drain and use .
This helps to take away the bad smell that the country chicken has .
Make sure you buy small sized country chicken that is of 3/4 kg when alive so when cut you get around 1/2 kg of chicken .
This way you get tender flesh and the soup tastes better resulting in a clear broth .